Grimes' Show And Her Saga In Kuala Lumpur
Grimes' Show And Her Saga In Kuala Lumpur
Disclaimer: The content of this article may contain spoilers (For the goers of Grimes' show in Jakarta), severe letdowns, frequent sighs, shocking revelations, squeamish feeling and a likely chance of falling in love with Claire Boucher.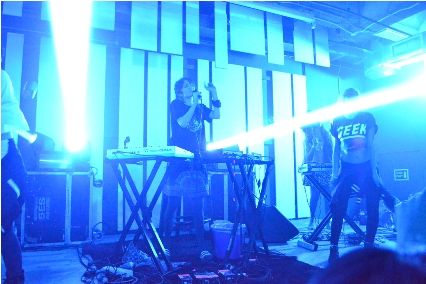 Unlike most gigs presented by Upfront at The Bee, the Grimes performance was more of a tall tale to tell. Having no clue of how the night would end up being (12/03), the concert goers at first seemed to be in hype to catch a glimpse of the magical being, Claire Boucher, and her sensational sounds. The place was quickly filled with crowd dressed in bizarre and deviant fashion to the extent of seeing a mash of neon-colored hair, clashing colors and odd headdresses,was not a new sight to see. There were spotted a few of whom appears to be below 18 fans that came to the venue on purpose, to have a chance to meet Claire even though the signs outside the entrance showed that it is a strict 18+ show. Claire Boucher is very concerned about this sort of regulation, in her tweets, she was eager to be fair to the fans. From her previous twitter updates, it even showed that she put up a guest list for those who couldn't attend the concert, especially those who are below 18. Judging from Claire's enthusiasm and hospitality, there were high expectations from the fans for an intimate meet & greet after the show finishes. Needless to say, people were definitely ready to paint the town in red.
The doors were open at 8 pm, although not all of the people were eager to seek frontrow, and for a good reason, since Grimes' opening started an hour later than it was supposed to. After tediously waiting for a sign of when the concert will start, Ami Dang, a Hindi-influenced dancepop musician (or she calls it as "Bollywave"), made an attempt to start up the longing crowd with her songs that had an ethnic delicacy of its own. Although the music itself was contagiously alluring, the sitar and the Indian lyrics appeared to be out of place in the type of venue it was held in.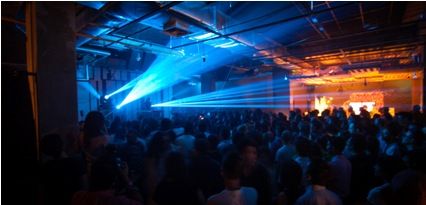 Having to think that Grimes was up next shortly, the crowd was unfortunately left to wait (again) for another hour or so. The place turned dead during those times, tired feets started to tap impatiently and people were starting to find a spot to sit and settle while waiting for the magical Elf to appear. The lightings of the venue were starting to ache the eyes, along with the repeated playlist that turned lifeless and people were getting wearier by the minute. In the midst of all the misfortunes, a climax calamity emerged with Claire's tweet about her getting food poisoning. Clouded with disappointments yet couldn't help but feel bad about Boucher's trip to Kuala Lumpur was welcomed with an ill-fated case of food poisoning, there was nothing to do but wait. Again.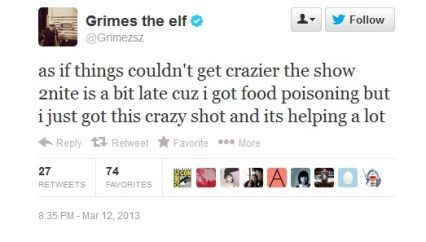 It was about 11 pm, when Claire finally arrived to the venue filled with anticipating fans. The crowd was instantly reenergized once a glimpse of Grimes was seen. Claire went up the stage along with a sincere apology of how messed up the night was and that she was given a shot to somewhat help her with the food poisoning. Wearing an 80's inspired headdress with floral print skirt and slippers, Claire appeared to be bubbly as ever and fit as a fiddle then started the night with her first song, "Symphonia IX". Vanessa was up next, and the recently enliven crowd was cheering in amusement, amongst of them were singing along to the lyrics. Claire's jigglypuff-ish voice radiated the place as the song was being performed exquisitely. A song from her album "Visions", Circumambient, was played with a very distinct tune that sounded futuristic and escalated the mood. In contrast with how it may give the idea that Claire was just "pushing buttons", seeing her energy and how she glows in the live performance, it was without a doubt that Claire is a radiant musical prodigy.
"Oblivion" was the fourth song chosen, with Claire's energy that seemed to be infinite and her dance moves that were enchanting in a peculiar way, it felt that the long hours were worth the wait. Nevertheless, the performance was not exactly candy for the eye, since the stage's lighting was poorly lit, making it hard to enjoy at its full dimension. "Nightmusic" was played next, before "Be A Body", where poor Claire had to run backstage to disgorge. Going back and forth with a bin in hand, Claire's enthusiasm and drive to give the people a good show made it even easier to adore. Another crowd-pleaser, "Genesis", was performed flawlessly with bubbles being blown above. "Phonesex" was chosen to be the finale, it was very unfortunate that the show is cut short due to the glitch that took place. Realizing the whole shenanigan with Claire's health condition, encore was definitely out of the question; still, with the given situation, Grimes' performance was beyond expectation.
With cancelled meet & greets, a fairly short setlist and a bad case of food poisoning, still, Claire Boucher did not fail to make us elves head over heels for her and her music. Eventhough she was not in her best condition, she gave us all. We are sure if She was being really well on that night, she would be giving a two-fold magical show to her fans in Kuala Lumpur. (Made Sania)