Local Vocal (No.10) : Parisude
Local Vocal (No.10) : Parisude
We celebrate this mid-August with happiness and recollect our nationalism. We think we have the urge to remind people about the celebration of Proclamation Day sixty eight years ago. Because, as the years go by, we tend to forget the significance of Independence, we start to forget how important the freedom is, and we don't realize liberty is something that could trigger creativity. The enjoyment of deliberacy to make something has been long forgotten and we let "amnesia" rules our thoughts of nationalism.
Parisude, a duo consisting Yudhistira Mirza and Amanda Chittara, has some thing for us to answer this question: "How important the nationalism is?". They offer elegant music combined with traditional ambience and modern equipment. Fusing electronica with ethnicity. They call their music as Indonesian Pop or Universal Ethnic. Mirza is the man behind unique tones of Parisude, he plays guitar and also synthetizer and Chitta is the vocal and lyric writer, sometimes play the gamelan and dance in a song or two. The gamelan is taking us to next level of the answer. There is so many sound of traditional music: angklung, suling bambu, kendang gong, rapalan mantra, and the list could go on and on. Do not forget the name Parisude itself is taken from Sanskrit.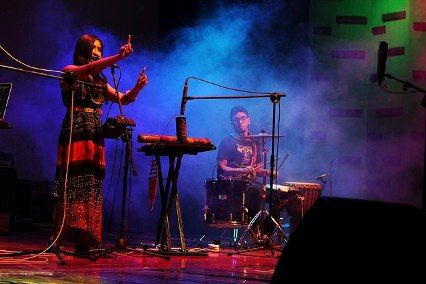 Maybe their experience when studying in Malaysia made them has this thing. They tried to make something local to bring in to the global world. Mirza manually collected Indonesian instrument sound because there is only a few softwares to build the sound of ethnicity. Chitta also tried to learn her singing technique to be more folk, folk as in Indonesia traditional pentathonic way. This is more interesting fact, they released their single on the Proclamation Day one year a go. It went by the title "Di Bawah Langit Yang Sama". You could guess what is inside it. Yap, strong music and deep lyric. Local and global at the same time.
They also has released their first album, Trikaya. It officialy released 31st May 2013 at Dia.Lo.Gue Artspace, South Jakarta. Eleven songs of track list and contains collaboration with A.F.F.E.N, Kunokini, and Anindya Dimas.
Here is what we actually ought to do. Support for this kind of music and let them explore their music. We could point out another local acts who have traditional instruments to enrich their tones: Kunokini, Nada Fiksi, Mr. Sonjaya, Teman Sebangku, Bunga Rampai. We support them to fill their lack of bravery so they could challenge themselves to use more local sound. One of the things to help us in commemorating the historic day and Indonesian roots.
Happy Independence Day! Live long and prosper, Indonesia!
Twitter: @parisude
Soundcloud: Parisude
Facebook: Parisude