Motion City Soundtrack Heaven Rawk Tour 2013
Motion City Soundtrack Heaven Rawk Tour 2013
MOTION CITY SOUNDTRACK will be doing an Indonesian tour on Heaven Rawk Tour 2013
Motion City Soundtrack will have their first step in Indonesian soil in March 2013. After a very long wait by the fans, they finally confirmed that they are going to have a couple of shows in Indonesia. On their Asia-Australian tour, they will make a visit and exclusive performances in two cities in Indonesia. Heaven Records as the promoter of this event have successfully convinced them to play in Bandung and Yogyakarta, while most of the concerts are usually held in Jakarta. Bandung and Yogyakarta are locally famous for their creative industry and this has become one of the reasons of why the promoter would proudly introduce these cities to the world. Remarkably, Bandung is where the Indonesian punk / underground music scene was born.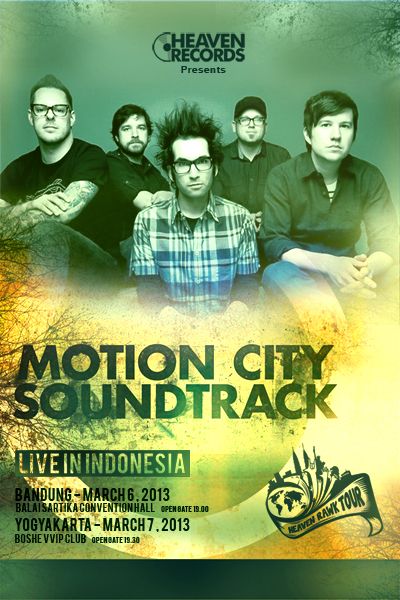 Motion City Soundtrack's Heaven Rawk Tour Indonesia 2013

Bandung: March 6th 2013 at Balai Sartika Convention Hall
Yogyakarta: March 7th 2013 at Boshe VVIP Club
For more info head to: www.heavenrecs.com / info@heavenrecs.com / Ph: +62 22 2038724.