Tame Impala 2.0: An Explosive Comeback!
Tame Impala 2.0: An Explosive Comeback!
Since their first visit to Jakarta in 2010, people have been screaming and begging for Tame
Impala to return. Fortunately for us, KiosPlay heard us loud and clear and invited the
psychedelic rock band from Australia to return on 29th April 2016. The long awaited comeback
concert was held at Lapangan Parkir Timur Jakarta, just big enough to accommodate every
hungry Tame Impala fans.! !
Since Tame Impala announced their show in Malaysia, everyone was on the edge of their seats
waiting to find out wether they will make their way to Jakarta or not. Soon enough, when
KiosPlay announced that they are indeed coming to Jakarta, everyone was ecstatic about the
wonderful news. ! !
We can just taste the anticipation in the air on the day of the concert. Everyone starts lining up
as early as 3 pm. Although the waiting did not go without a glitch, when it started to rain two
hours before the gate was supposed to open, everyone still got their spirits up and braved the
rain (dedication on point!). When the gate eventually opened, the venue was quickly filled by
over 5000 excited crowds waiting to see their favorite band on stage. Little did they know they're
going to witness an explosive performance from Kevin and the gang.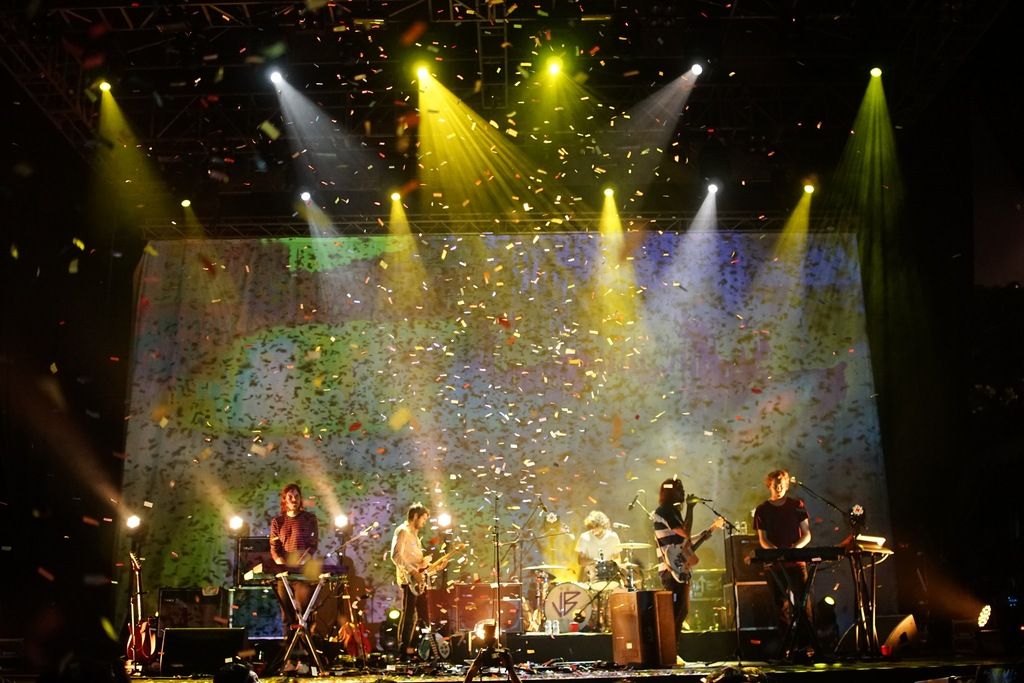 Barasuara started the night on a high note! The energetic drum beats and bass line combined
with beautiful harmonies from all three vocalist, gets the crowds going. You might think having
three vocalists would be too much, but they have proven it to be just the right amount. They
managed to create a perfect blend of feminine and masculine tones, therefore creating a unique
harmony. The heart pounding drum beats also caught attention, mainly because it was done so
effortlessly like it was no big deal. Also great stagemenship by Iga, telling the crowds how he
met Kevin Parker the first time Tame Impala came to Jakarta and how six years later, he's
opening for Tame Impala. Overall, Barasuara gave a banging performance and a great warm up
for everyone.
After Barasuara left the stage, a bunch of Tame Impala crew in white lab coats, Tame Impala
scientist as we call it, prepared the stage for the lads. Then, it was time for the Tame Impala to
finally take the stage. The crowds went nuts when they start projecting trippy 'Tame Impala'
signature light on to the stage and every member took their place followed by Kevin Parker.
throwing friendly waves. They begin the night with a 7 minutes piece from their latest album 'Let
It Happen'. As they got to the second chorus, confetti was shot through the air. We got the first
glimpse of how explosive the night's going to be.
The bare footed Kevin Parker greeted the crowds saying about how good it is to finally be back
in Indonesia and how they haven't forgotten about us, which was responded by cathartic
screams. Indeed it was a special comeback.
The night continued with them playing a great balance of songs from all albums. After releasing
'Currents' summer last year, Tame Impala has been broadening up their set list. Playing new
favorites like the mellow ' Yes, I'm Changing', the soulful ' 'Cause I'm A Man' and the disco funk
vibe ' The Less I Know The Better' they have attract new fans and kept the old ones happy.
Other than songs from their latest album, they also played us some Tame Impala classics, like
the groovy 'Mind Mischief', the tempo roller coaster ' Apocalypse Dreams' and who can forget
the heavily effected 'Elephant', the little drum solo Julien did at the end was enough to get the
crowds cheering for more!
One hour passed and it's encore. The bittersweet part of every concert. Tame Impala treated us
with two songs of their two latest albums. The first one was everyone's favorite and another
Tame Impala classic, 'Feels Like We Only Go Backwards'. Kevin's high notes, attractive bass
line and drumbeats easily made it a crowd pleaser and it's even better live. And they finally bid
us goodbye with another favorite from 'Current', 'New Person, Same Old Mistakes'. The mellow
vibe of this song and Jay's intro made it the perfect farewell song. Kevin finally said his
goodbyes, thanking the crowds for sticking with them. With another confetti canon, Tame Impala
left the stage leaving us in awe and smile on our faces. It was definitely the comeback everyone
was hoping for and more.
Special thank you to KiosPlay for inviting Tame Impala back to Jakarta! KiosPlay next event will
be M83 on May 21st 2016.