The Next Big Thing (No.50) : Cherry Glazerr
The Next Big Thing (No.50) : Cherry Glazerr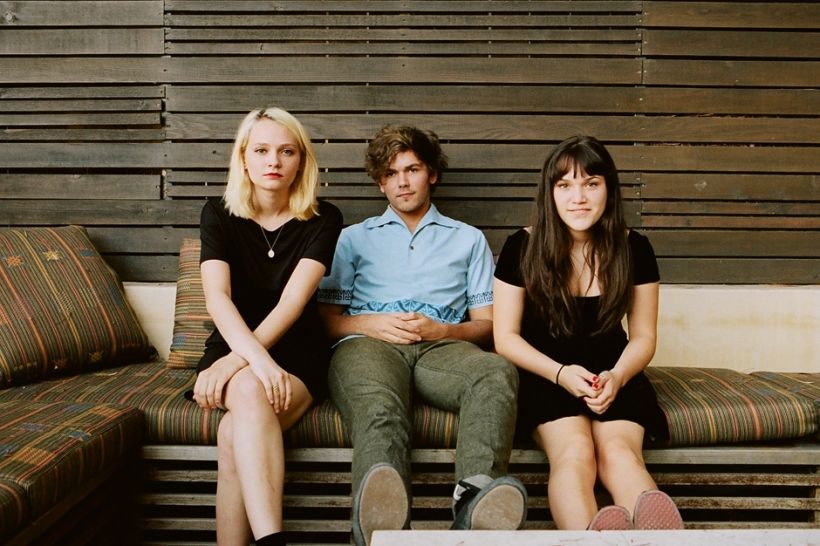 We're really hooked up with music that comes from California (after New York). So we got carried away with one of our nicest discoveries when we saw this unique and intriguing band at SXSW 2014. Say hello to Cherry Glazerr. Cherry Glazerr are a Californian punk alternative rock band with a blitz of psychedelic. They are consisting of Clementine Creevy (vocals/guitar), Sean Redman (bass) and Hannah Uribe (drums). If you're a listener of KCRW's morning session, then you'll be familiar with their band's name. Cherry Glazerr were named after Chery Glaser, the NPR News Reporter.
In early 2012, Clementine started making some music and the next thing is, she should thank to her mom's socializing skill. Here's what happened, her mom overheard Paige's (from Tashaki Miyaki) conversation about music, and she went to Paige, telling that her daughter also plays music. After that, Clementine got teamed up by Lucy Miyaki with Joel Jerome to work on some demos in his music studio. With all of the things that happened, Clementine found the formula for her band, she met Hannah (who also went to the same private school) and Sean to form Cherry Glazerr. Cherry Glazerr lash a garage punk music with a very interesting and catchy lyrics. To name a few, one of their songs is called 'Grilled Cheese' and the music doesn't sound cheesy at all, it has a spooky groove which will drive you to some gloomy that a garage band used to have. The spooky groove is also complimented by Clementine's mild vocals, and it adds another colour of their music.
In January 2014, Cherry Glazerr released their debut album 'Haxel Princess'. The album contains of four new songs and three re-recorded songs. The songs in their debut album are not only circling around the 'grilled cheese', and each song has a deeper meaning. We're giving a huge credits with the lyricist of songs in Haxel Princess because the lyrics are seriously splendid. Consequence Of Sound wrote "Cherry Glazerr are snotty, but smart about it, and as a lyricist the cynical Creevy deals in broad but swift strokes. This is from "Cry Baby", the album opener: "Don't tease me, I'll shove you on the ground." Here's the mantra of "Bloody Bandaid": "I feel weird." Or what about this observation from "Teenage Girl": "Rob Kardashian's a tool." Creevy has a nice, pretty voice, sure, but she's usually closer to writhing than sashaying. As long as she manages to keep her sense of humor intact, she'll keep us hanging around."
Cherry Glazerr have been making some impressive slots by performing at SXSW 2014, opening for Red Kross, Mikal Cronin, and their song 'Had Ten Dollaz' was echoing in Paris (for more than a half an hour) for Saint Laurent's show. Sean the bassist said that the band are still floating around to figure out what's next. He also added "It's encouraging when our friends, who are amazing musicians, really like our songs, our simple little songs. That's what makes us feel the best.".