The Sky Cleared Up for Warpaint
The Sky Cleared Up for Warpaint
On a rare rainless Friday night , February 17th 2017, the parking lot of Senayan was filled with excited Warpaint fans as the all girl band from LA took their stop in Jakarta. It was the band's first time in Indonesia and the band's only South East Asia stop for their 'Heads Up' tour. For years and years have been begging promoters to get Theresa Wayman, Emily Kokal, Jenny Lee Lindberg and Stella Mozgawa to the country, and that night, the people got what they wanted. Warpaint's groovy and eclectic presents kept the crowds moving all night.
Troü, Diocreatua, and Kimokal acted as opening acts and opened the night. Although three opening acts sounded a bit too much for a headline gig, it worked out really well. We saw it as going to small music festival before the weekend. In the early afternoon, before the Friday night traffic occured, people had been arriving to the venue to check out the opening acts. Troü and Dio Creatura did a great job warming the crowds up with their pop rock vibe and Kimokal did the job of getting the crowds' energy riled up just enough that they still want more. By the time Kimokal finished their set, the place was bustling with energy.
As the night progressed, and the sun had set completely, the venue was fully filled. It was clear that everyone had the same thing in mind, Warpaint. When the clock stroke 9, the crowds started to roar with excitement upon seeing the band took the stage. The set was kicked off in a mellow mood with 'Intro' and 'Keep It Healthy' from their self titled album 'Warpaint'.
They kept the ambience fairly relaxed and calm with songs like 'Heads Up', 'Stall', 'Undertow', and 'No Way Out'. But Stella's attractive drumming and Jenny's intricate bass lines create a sound that is unmistakably Warpaint. Things got interesting when "Beetles" was on. The unpredictable tempo changes, Emily's riff and Theresa's voice were executed perfectly up on stage.
The energy started to rise up as they played some of their more upbeat numbers. 'Whiteout' from their recently released album 'Headsup' was a hit. Jenny's baseline yet again played a big role in making this song a definite Warpaint song. Theresa's guitar riff, Emily's perfectly tuned voice falls perfectly into place. Emily's groovy dance move particularly in that number needs to be recognize, they're fantastic.
The night continued with some favorites from both their new album and previous ones. 'Elephant' and 'Love Is to Die' are some of the crowds favorite that night. But their new song, aptly called 'New Songs' got the biggest sing a long of the night. But the real winner that night was what come afterwards, 'Disco//Very'. This is the song where everyone in the band play an important role. We can't help but to harmonize the words "I need to take a break!" together with the girls.
After they played 'So Good' and 'Bees' as their encore songs, the band bid us adieu.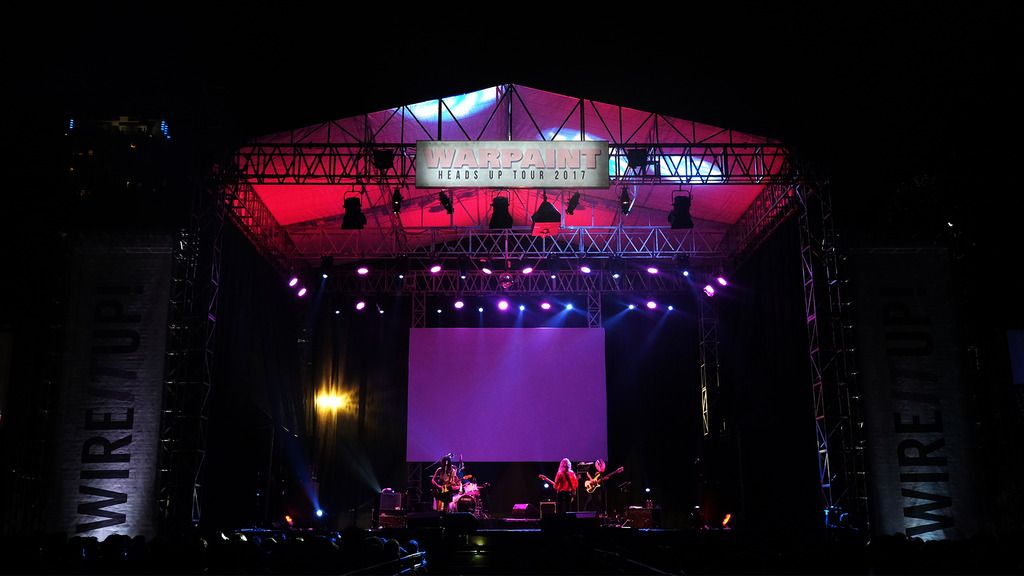 We really enjoyed their set and although they didn't squeeze in 'Billie Holiday' on their set, it was still a great set. Warpaint really knows how to mix up their set list and keeping people on their feet. Even without a backdrop, Warpaint managed to make it clear that it was in fact a Warpaint show.