What We Learned at Java Soundsfair Festival 2014
What We Learned at Java Soundsfair Festival 2014
Java Festival Production who successfully held prominent festivals like Java Jazz Festival, Java Rockin' Land, and Java Soulnation, has launched its new breed, Java Soundsfair Festival. Java Soundsfair Festival is a hybrid music festival which combines music performances and cutting-edge art installations. The festival hosted performances from top notch names such as The Jacksons to Singapore's up and comer, Weish. Just in case you missed the festival (you totally missed out), we have strung up some glimpse of what we experience in Java Soundsfair Festival's debut.
1. It was actually fun to experience an all-indoor festival
Call us a coward or whatever, but when it comes to an air-conditioned room, we can't help it. It turns out that Java Soundsfair Festival is the all indoor art and music festival in Indonesia. And we are sure, that many of you must be very happy for this all indoor concept, because you guys didn't end up having sweat patch all over your shirts.
2. RAN's stage act was such a joy to watch


We overheard some people decided to skip RAN's show and some even said that they are boring. However, we decided to give it a go to see RAN. And those people who said that RAN is boring, well, it's either they are the ones who are boring or they are the ones who are totally boring. Because from what we saw, RAN gave a simply nice set and they even had dancers who pumped up the excitement to singalong to their pop hits. We are a stan for RAN now.
3. Sophie Ellis-Bextor doesn't age. The same thing goes to her music.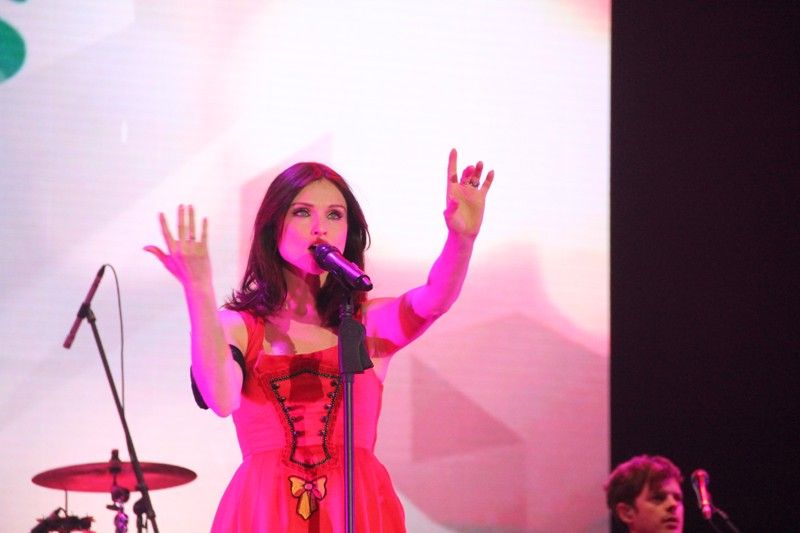 When we found out that the inhuman beauty, Sophie Ellis-Bextor, would be one of the line-ups, we knew we were not going to miss it. The first thing crossed our mind when she came out the stage is she doesn't age. Okay, now we sound like a fan boy. Ms.Ellis-Bextor performed her infamous 'Take Me Home' and a groovy medley from Modjo's 'Lady' to Moloko's 'Sing It Back'. Her performance was completed beautifully with her disco dance in an emerald sheer dress which gives a peek of her bedazzling underwear. Combo.
4. You should see Tokyo Ska Paradise Orchestra for once in your life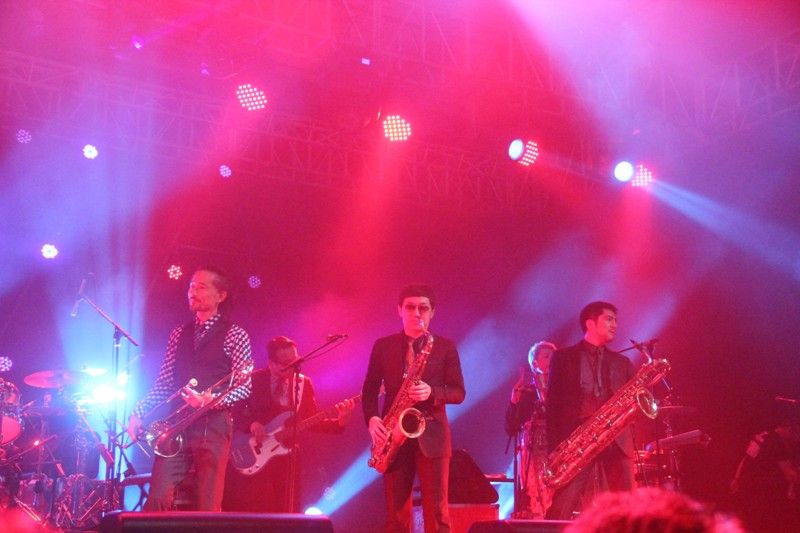 Yes, you should see Tokyo Ska Paradise for once in your life. All we can say is they did it in a f***ing legendary way in a serious classy act. We expected that their set would be mindblowing but when we finished seeing them, it was like you just finished seeing the Godfather banging their instruments. The point is if you missed their show, you missed out big time. (See how mindblowing their set was : here)
The canadian reggae fusion band were the headliners on the first day of the festival. Nasri, Mark Pellizzer, Alex Tanas, and Ben Spivak performed songs 'Don't Kill The Magic', 'No Evil', 'Let Your Hair Down', 'Paradise'. Then they closed the night with their world-wide known song, 'Rude', which invited the whole crowd (and we are sure 80% of the crowd know them from that song) to do a massive karaoke. FYI, the band were not surprisingly rude. Enough said.
6. There was no bad hair day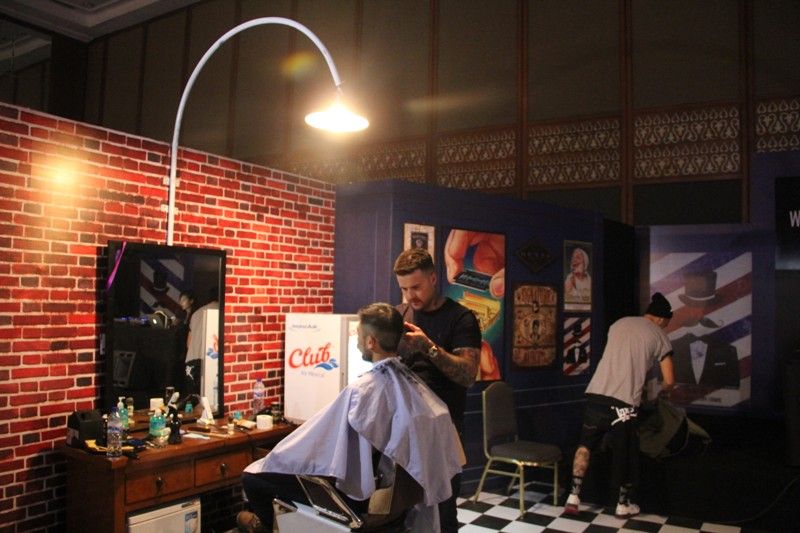 Well, if you went to the fest, we could assure you that there were no bad hair on that day! At the Assembly Hall 2 (it's where some cool paintings and art installations were put), they even had this pop-up barber shop where you can get a seriously cool hair cut. Getting dandy comes in handy.
7. So many good things to capture, included the art installations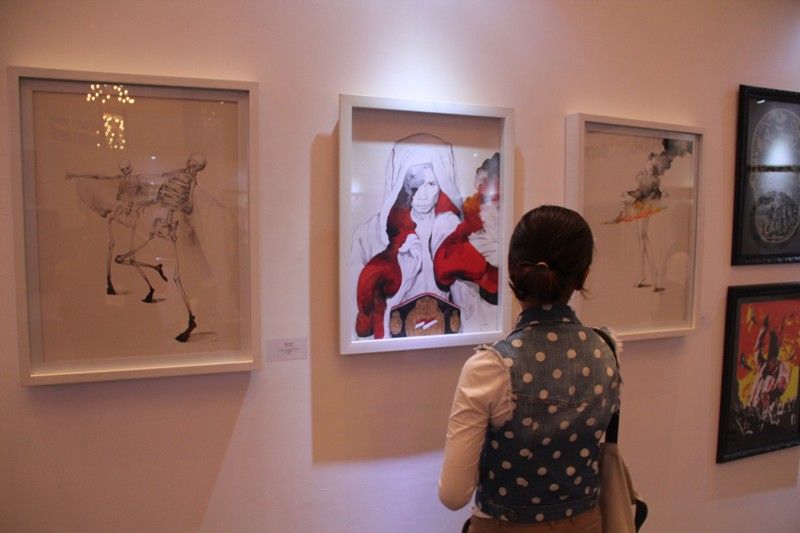 If you are a fan of art and cool paintings or whatever that sounds artsy, you must be very glad with the art installations at the fest. Just FYI, the art installations were curated by some of the cities' best curators.
8. Cody Simpson shook his hips like Elvis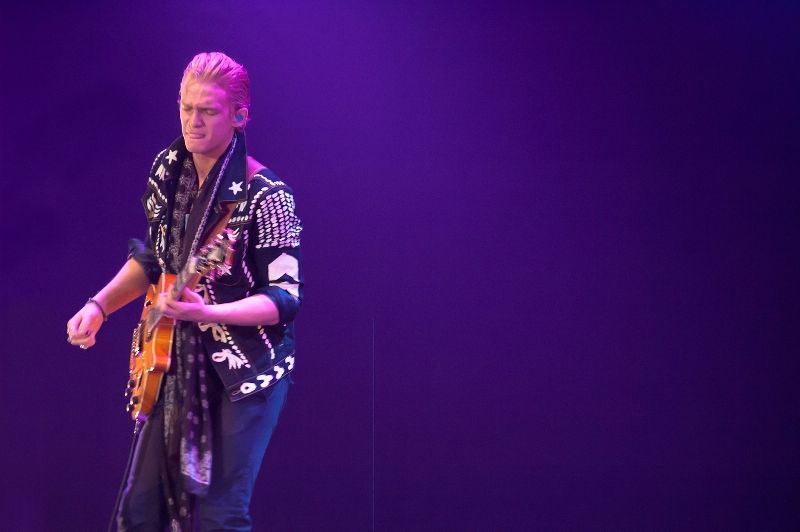 It turns out that Cody Simpson (who happens being a bestie of Justin Biebs) could pull of Elvis' on stage. Before Cody Simpson hit the stage, we saw a bunch of teenagers has already lined up infront of the gate just to make sure they can secure a great view to witness him, or maybe his dapper look. Well, what we can say is, Cody Simpson's show was cool enough. Might be even better than Justin's.
9. Hail to the line-ups at Demajor's Merak Stage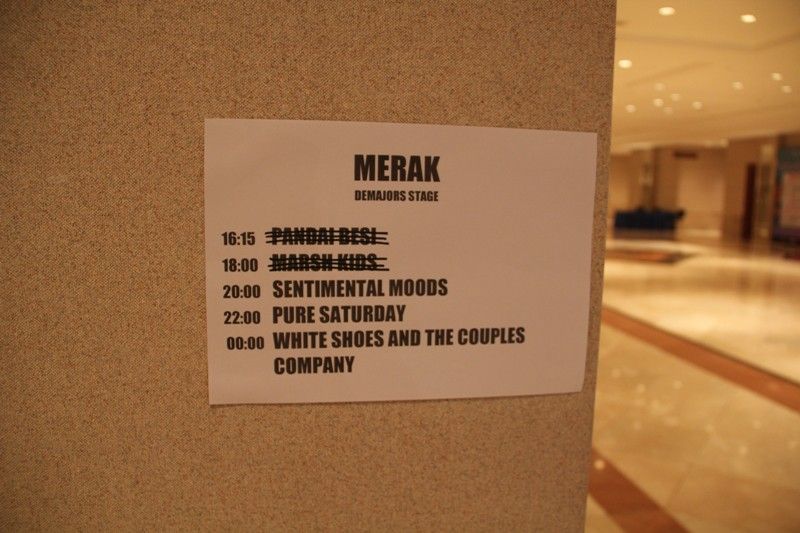 We just can't even (insert a dramatical GIF) at the performers at Demajor's Merak Stage. From day one to day three, we were pleased!
8. It takes two to tango, but Poolside might need three to make us dance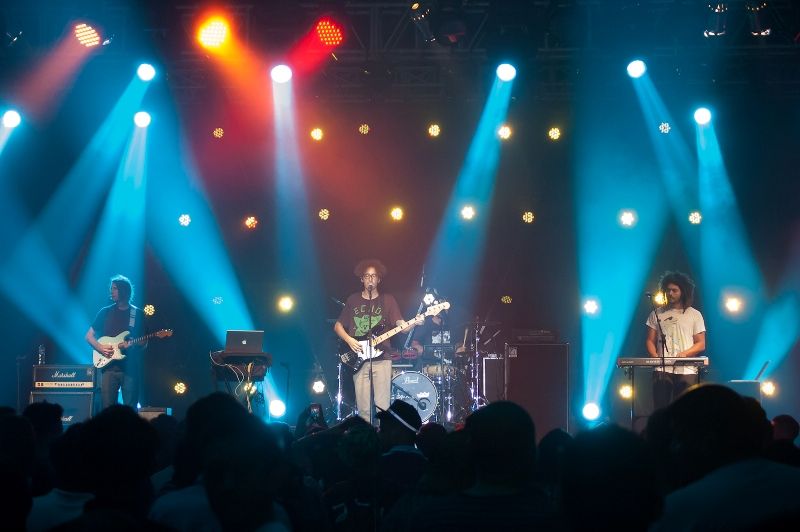 We love the daytime disco sounds of Poolside, we always dance to their blissed-out and bass-grooving songs. However, that night their set felt a tad bit blant and that was just it. Maybe that was just us, but we will always put them in our disco daytime playlist!
10. Coldplay karaoke session with Yamaha Special Project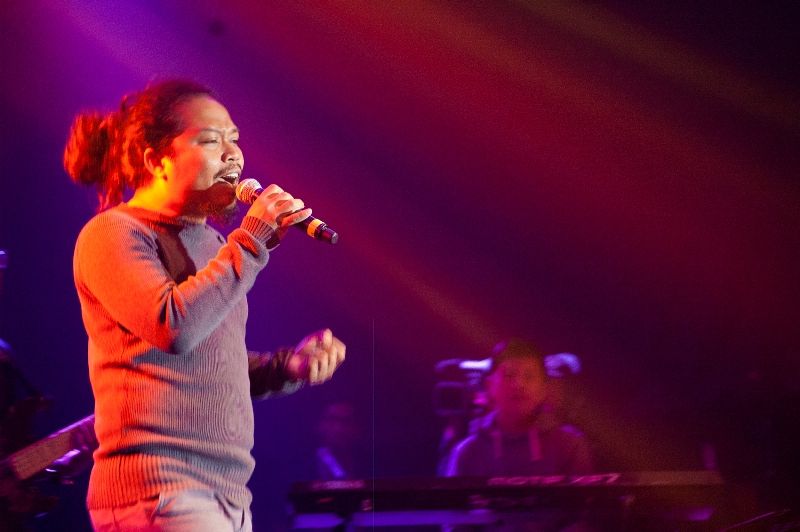 This is definitely one of the best highlights from Java Soundsfair Festival 2014. Yamaha Special Project brought some great vocalists (and also the current guitar maestro, Jubing) to perform some of Coldplay's notable hits. From Payung Teduh's Is to Sandhy Sandoro, they all succeeded the crowd to experience a local sensation of tribute to Coldplay.
11.       Scouted talented up and comers at Soundsfair's lobby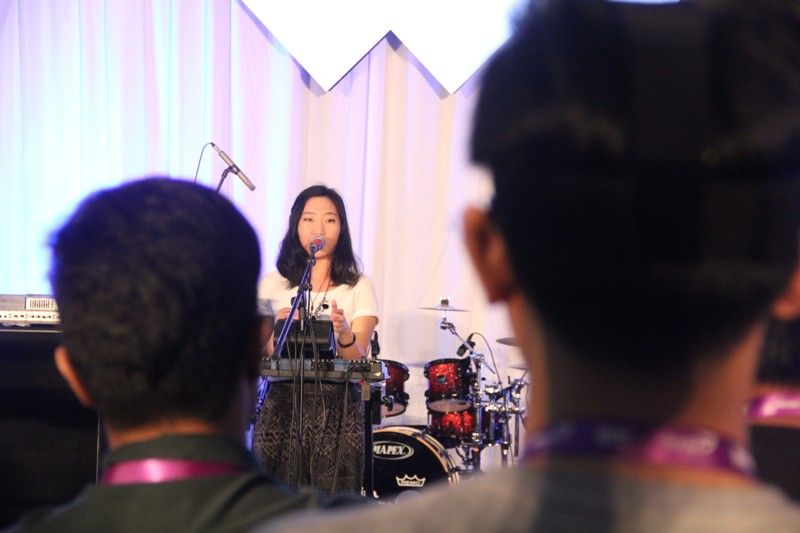 Soundsfair's Lobby stage was definitely the easiest stage to see since it's located right after the entrance gate. The cool thing is it felt like the live-music enthusiasts were welcomed by some of the best new bands once they entered the hall. From Singapore's Weish to the latest MERAH Music from Jakarta (interesting fact : right after MERAH Music performed, a synth band from China RED was scheduled to play next. MERAH is RED in bahasa Indonesia, in case you are wondering why this is interesting)
12. Roosevelt fed the depressing indie music fans to dance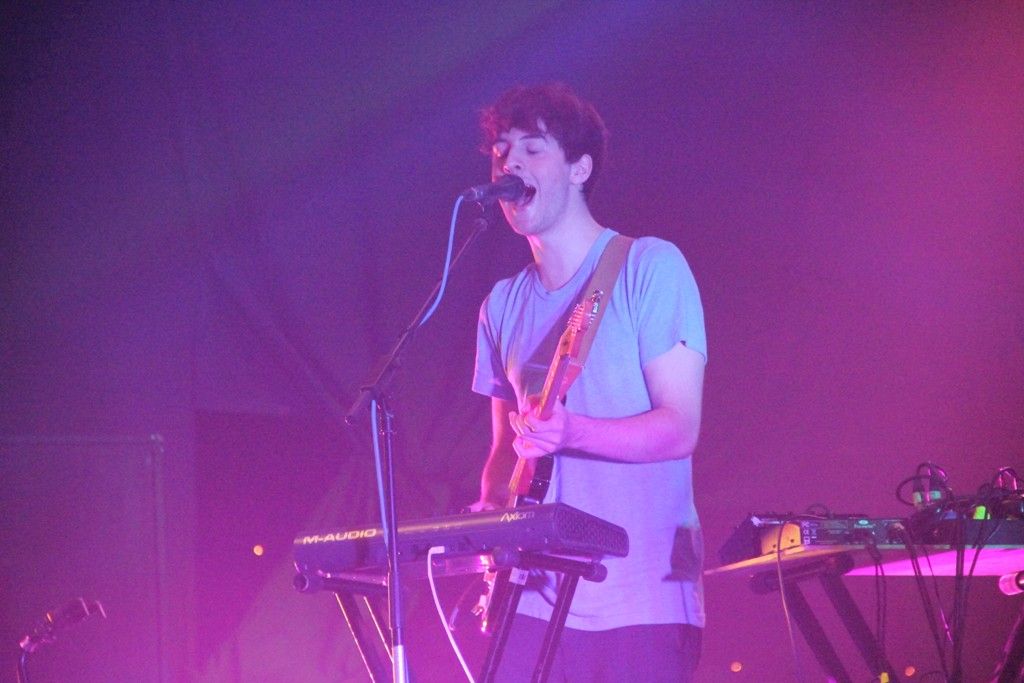 As how they describe their music "dance music for people who are too depressed to dance. It was really good to finally have some great indie bands to come to Jakarta after a long hiatus from Indonesian promoters for not making indie bands' concerts. Cheers to the amazing time circa 2010 – 2012.
13. The Walking Dead was brought into the fest
There were not only art installations at the festival, but also Zombies! We thought someone was hammered after walking frantically, but we realized it was still pretty early to get boozed. When we got closer, they were zombies. A fan of the Walking Dead should be making a parade if they saw this!
13. Yuna was undeniably lovely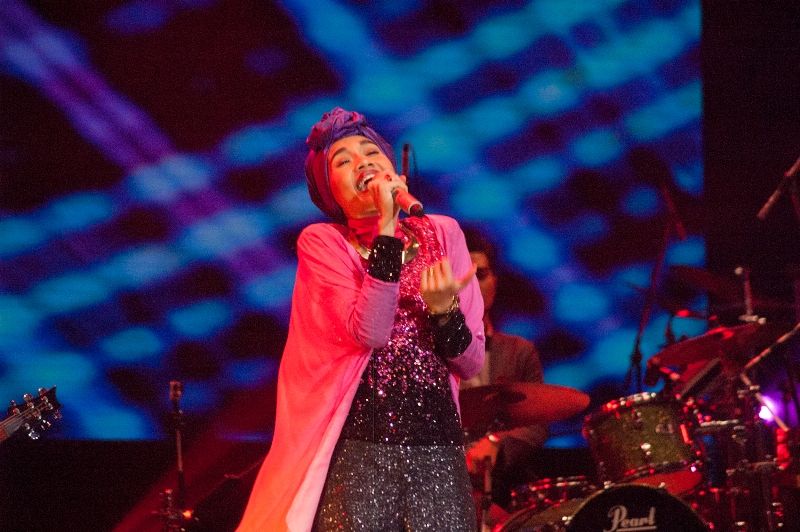 "Jakarta~" Yuna melodically greeted the crowd who've been waiting for her at the plenary hall. With her looking pretty in her turban and flowing dress, Yuna performed her hits such as 'Falling', 'Gadis Semasa', and also her Pharrell-produced chart topper song 'Live Your Life'. Yuna also showed off her ukulele playing skill, and once again, it was a great rendition accompanied by her smooth as silk vocals. Oh, what do Indonesians and Yuna have in common? A fan of Indonesian Meatballs, BAKSO. Hell Yeah.
14. Tulus gave an "elephant size" of a sweet performance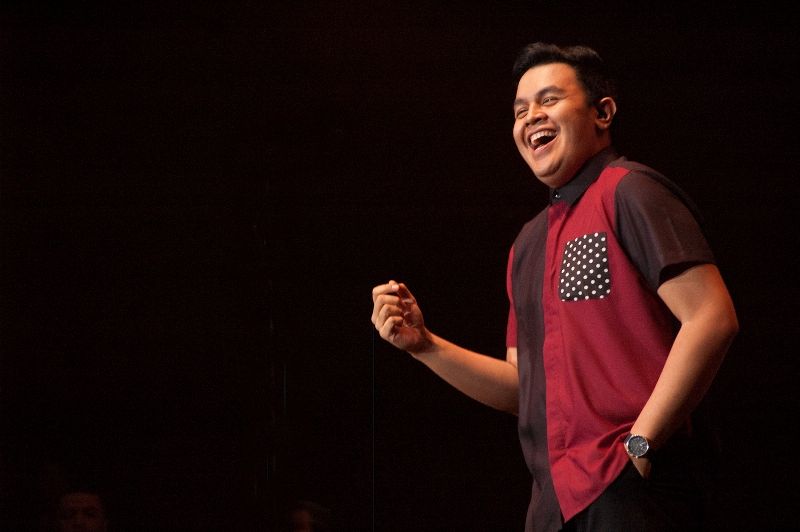 Do you guys remember the long lines at Java Jazz Festival when Tulus was about to perform? Yes, that happened again when Tulus became the festival closer at the Plenary main stage. It was easy to say that Tulus successfully made the love birds to singalong to his romantic songs such as 'Jangan Cintai Aku Apa Adanya', 'Sewindu', and '1000 Tahun Lamanya'.
15. With extra sugar and extra salt, Cibo Matto were solid


The New York-based band were just totally solid. With their high musicality, the crowd were swayed with songs like 'Sci-fi Wasabi', 'Birthday Cake', and even their rad bossa cover of 'Águas de Março'. Evethough the hall was quite empty, Yuka and Miho managed to blast their ambient music to make the numerous crowd to dance. (Shout out to the front liners crowd, included to the Indonesian designer, Kleting.)
16. Long live the King, long live The Jacksons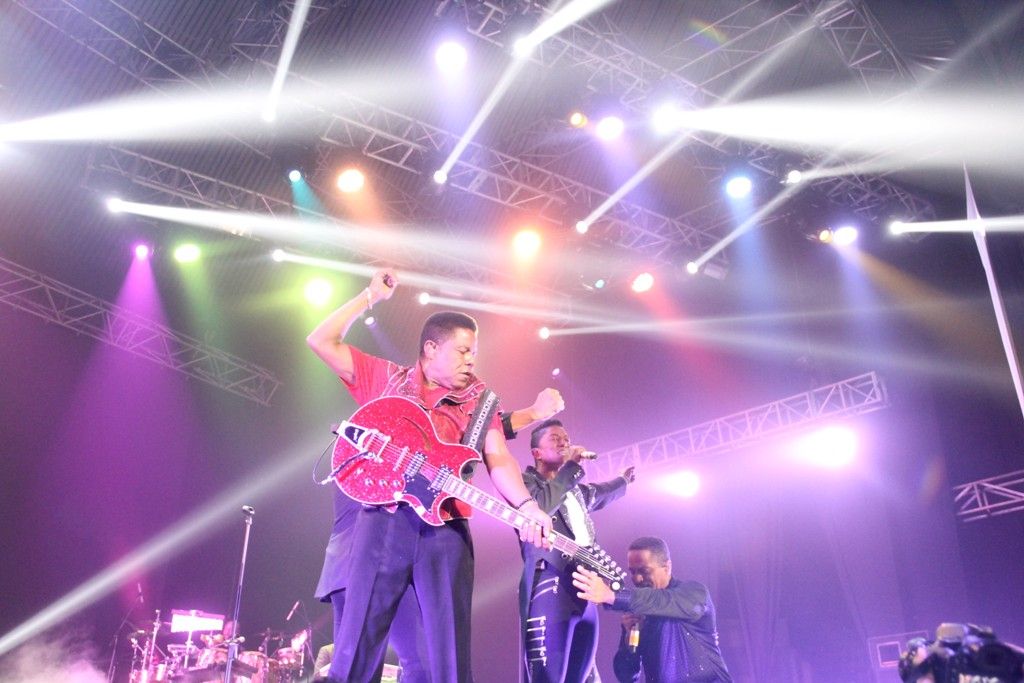 The Jacksons are definitely the king of all the line-ups from the festival. Looking like a total legend, they showed up dramatically and walked through the gunsmoke in a bad ass style to open their show. They performed an effortless yet sublime show with songs like 'Can You Feel It' and the all-time dance favorite 'Blame It On The Boogie'. Eventhough one of the jacksons had departed, The remaining brothers still remain being a supreme group. That night was filled with the soundtracks most of everyone's lives, and we all know they have become wiser with age, they were still able to give a dynamic and amazing fresh moves like it was their first time to perform. It was a priceless experience for us to finally be able seeing the legends live.
17. We need a round two of Java Soundsfair Festival
You heard it, once is never enough. Let's have another round of Java Soundsfair Festival because we need more festival experience. Cheers to Java Festival Production and the whole team for the event!
(Photos : Maria Anastasia/Alcander Alonzo/Gilang Bimar)