Amazing Signs From The Universe to You During WTF16
Amazing Signs From The Universe to You During WTF16
We couldn't be the one who are still having a post #WTF16 depression right? The annual summer festival by Ismaya Live ended on Sunday (14/8), but we can still feel all the excitement that happened during two days full of music, art, food, and mud. Yes, it rained hard both days, but it didn't stop people from having a good time. Wet or dry.
We had so much fun that we think that the universe sent us here for reasons we couldn't see but now we totally get.
1. Witness first hand how We The Fest turned from Coachella to Glastonbury in hours
Day 1 of WTF16 started out hot and sunny, like your typical summer festival. Everyone came in with their sunglasses, shorts and white sneakers ready for a Coachella type festival. When the first raindrop fell followed by a mass of heavy rain, those summer Coachella feels turned into sea of colourful ponchos and raincoats. Green grass turned into one massive muddy dance floor. But like both of those great festivals, everyone had lots of fun nevertheless.
2. Raining = Universe's way to tell you to shut down your phone
It's a perfect sign from the almighty that sometimes all you have to do during a music festival is just to pay attention to the show, not your timeline, not your Instagram notification, not all those things. JUST THE MUSIC. We caught people had to keep their phones off in their pocket, and guess what, it's great to not have it on your hands for once. Put your hands up, not phones up. Ps: Much love to bunch of teens who had the guts instagramming the shows while raining, good luck fixing your wet phones.
3. We can finally use Singing in the rain as our instagram caption
Have you ever listen to 'Singing in the Rain' and thinking that would be fun and wishes you could do that without looking like a maniac? Well we did that, and it was indeed fun! Another bright side, we have the perfect caption for our video singing 'What can I do to make my baby understand?!' on top of our lungs.
4. It's the weekend that united us all
Really. That weekend united all of us. From beauty hijabis, a group of boys who just had their puberty, our editor who flew to the city just to see WTF, geeks who got the tickets for free from social media contest, famous people who are only famous on Instagram, hipsters who speak in a bilingual manner, vloggers who did an impromptu meet and greet with their fans, expats who blocked your view because they are just awesomely tall – and good looking, people who don't love music that much – then people who love music so much that they don't care what they wear, the cheerful gays who were loud yet still fun, and even parents who took their babies to the fest. #WeUnite
5. Getting teased with made up stories and two encores by Macklemore and Ryan Lewis
The rapper and DJ duo Macklemore and Ryan Lewis finally made their way to Jakarta. They loved it here and we love them being here. He's not only bringing his cheerful persona with him, but also his skill of making stories. From telling the crowds that his daughter spoke her first word "Thrift Shop" at a mall in Jakarta to getting stopped by the immigration because he is "Brad Pitt's Cousin" . We're not telling you those stories are fake, but that's some wild weekend he got if that's all true.
The teasing doesn't just stop with the stories. They successfully played with our emotions by giving us two encores! Just when everybody was ready to freak out when the whole crew left the stage after Dance Off, the great Ben came back on stage to treat the crowds to one more song, 'Downtown'. The whole set was a emotional roller coaster.
6. We went back in time and party like it's 1975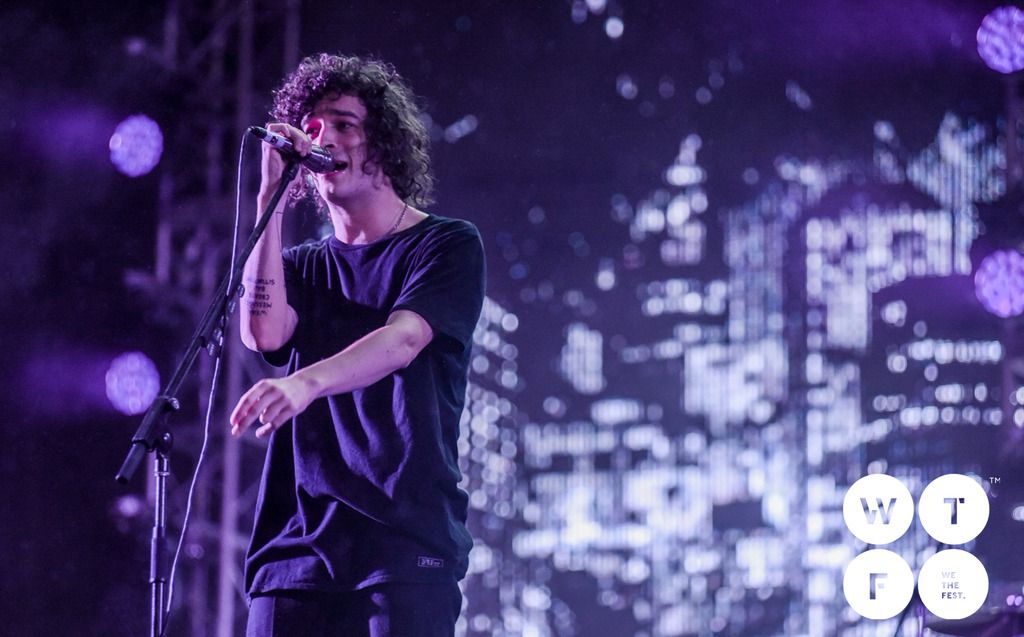 Another first timer in Jakarta is the British indie rock band, 1975. This band is definitely the most anticipated act at WTF16, based on the strong reaction they got on social media following the full lineup announcement. Playing right before the headliner, Mark Ronson, they're an act worth the wait in the rain. Matt's angsty voice combined with him moving with ease across the stage and hair flipping making teenage girls weak in the knees. With weak knees, everyone still managed to party it up until the rain stopped.
7. Recreate the most talked about music video
When we saw WTF's instagram post about the Hotline Bling box, you can bet we spent the whole night practicing our Drake moves. From playing air tennis move to our best "call me" move, we got it all down!
8. Do n't dress up too much. Because it's a rain or shine or muddy
3PM – 5PM, it's like we just entered an high street store or some aisles in New York with bunch of stylish kids. Afterwards, HELLO PONCHO! Here's the thing, WTF simply states that the festival is not about music but also expressing your ideas through your outfits or maybe your over the top headpieces. BUT REALLY, this year's WTF might be a subtle way of saying "babes, maybe next time less is more is the option". We hope those expensive shoes that you wore during WTF were bought on sale, so you don't have to cry while washing the mud off them.
9. Rich Chigga is a Godsend that ANYONE can own IT
This comedian slash rapper slash internet sensation finally got to perform to a big crowd at WTF16. If you have been following his social media these past years, you might have doubted the man. But last week he prove everyone wrong with his incredible rhyme and flow. The carefree ambience he brought to set makes it easy for the crowds to get really get into it. P.s., he did a dance off during Macklemore and Ryan Lewis' set.
10. Danced in the rain like a little kid
Honestly, when was the last time you had the time of your life dancing in the rain? I believe that Ismaya has somehow tricked the clouds into pouring a very light drizzle during the peak hours of WTF for a jolly good reason – for us to let go. Let go of the burning cigarette butts turned moist with the water droplets. Let go of you rain ponco because there is no use in protecting that flower headpiece (thank God I didn't see any Native American headwear, guys, it's politically incorrect to wear them). Let go of the smartphones we're so obsessed about (yes, we know how much you want to Snapchat the whole set of 1975, but apparently life wants us to dance to it not record snippets of it). Let go of all your problems even for a while.
Dance, dance, people.
11. Light festival
The thing with festivals is that you don't have to know the entire lineup to have fun. There are so many fun games, activities and food to gobble about. The light setting was also very beautiful and illuminating, gave us so many spots to take not-so-candid Instagram shots with perf lighting. Bravo for all the sponsors and booths with such good lighting for thinking ahead on how much these people love to take selfies or stories.
12. Local treats
WTF is actually one of the few festivals I'd visit before the main lineup starts. There were so many good local talent starting with Barasuara, Sheila on 7 (so much nostalgia), Naif, and the indie players like HMGNC, dekat, Dried Cassava and Trees & Wild. And a few others I didn't get to see but I'm pretty sure was super awesome as well. Doesn't that give you hope for the local music to be as good (or even better) than the international guests?
13. Last but not least, Mr. Ronson himself
It was like war to get to witness Mark Ronson in the flesh. Even though it was a DJ set, you can actually feel why this man has made his way to the music industry. I swear there was a moment where my eyes got teary but I hope the person beside me thought it was raindrops near my eyes. The one-hour set by Mark was the perfect bang to close the entire two-day ponco fest.
Seriously, I don't know how WTF manage to always go beyond my expectation, but I am 100% sure I'm not going to miss next year's festival.
(Editor : Alcander Alonzo / Photos : Ismaya Live)