How To Dress Well as Mr.Melancholy
How To Dress Well as Mr.Melancholy
Tonight's specials at The Bee, Publika: one dose of intimacy and a whole lot of blues. The theme of last Friday night was especially outlined with Upfront's most recent guest star, How to Dress Well. The gig had a very specific crowd of its own, creating that atmosphere of exclusivity, a vibe of being included into a pretty neat clique.
Enterprise, a local band, was chosen to fill in the opening for the night, steaming up the tragically condensed crowd with a percussion/electronic-influenced genre. The music was tremendously upbeat; it was obvious that the five men dressed in plaid shirts surely knew how to pull off their songs, of those including LHFT, On a Mission, and the crowd's favorite, Raindance.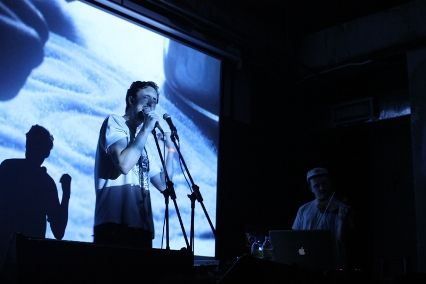 As soon as the set was ready, Tom Krell paced his way to the stage, with the company of Aaron as the backing musician and Nick as the projectionist. It was a nice surprise that it almost felt like a lonely one-man show, with Krell standing on the spotlight along with the visuals playing in the background, but it seemed to be the perfect touch for the show he was about to bring. Before it started, Krell expressed his gratitude for being at Malaysia and his thoughts about how love should be celebrated and be graced upon no matter what orientation was involved, which was fairly an eerie intro but the crowd's cheer and applaud were inevitable. The first song played was "Suicide Dream 1", although it sounded a tad bit too devastating for an appetizer, the crowd was almost instantly beguiled by the heavenly falsetto voice and the ambience created.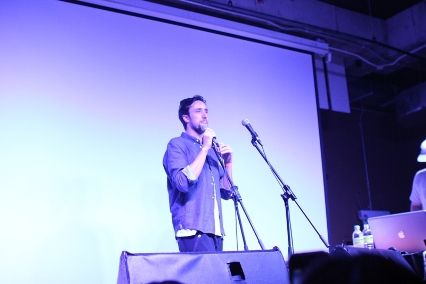 "Running Back" and "Cold Nites", were played whole-heartedly, with a crystal-clear flow of emotions that not all musicians can afford; Krell was definitely one of those who can. His performances were very autobiographical; it showed that the songs he brought were from a personal perspective that gives out a one-of-a-kind persona. Unlike the title of the single, the set was in fact warm and welcoming, Krell's attempt to befriend the crowd was noted. A new song was played next called "No More Death"; which was quite a treat for the ears, strummed by thrashes of loud beats, bringing a fresh change of the music's radiance. "Suicide Dream 2"was then performed, followed by a more enlivening vocals through & "It Was You". The brief minutes of bright optimistic music ended swiftly when "Talking To You" was about to be played, opened by a short intro saying that the song was specifically written when Krell was in a state of confusion, described it as a "duet that I wrote with myself". Most of the songs performed were from the second album, Total Loss, including "Ready for the World" and "Ocean Floor for Everything", that appeared to fit precisely with the a cappella setting. The crowd was drawn but unlike in most concerts, there were very few sing-alongs, and for a good reason, thus the performance was delivered in the utmost capacity that intently captivated them. It was impossible to witness Tom Krell sing his heart out without a set of Bambi eyes.
"Set it Right" was a spot-on parting song, both the kaleidoscopic visuals projected on the background and the lyrics orchestrated flawlessly. It was a very short one-hour set, that was concluded with an encore of  "Blue", sung a cappella, that basically summed up the theme of the night. Despite the fact that How to Dress Well's performance was a bit distant and hasty, it was definitely worth to see. The performance was beyond melancholic that it measures up to be called as a work of art rather than just another gig. (Erlangga Primaputra)