ISAD Festival : The Exhibition of Archive and Documentation of Street Art
ISAD Festival : The Exhibition of Archive and Documentation of Street Art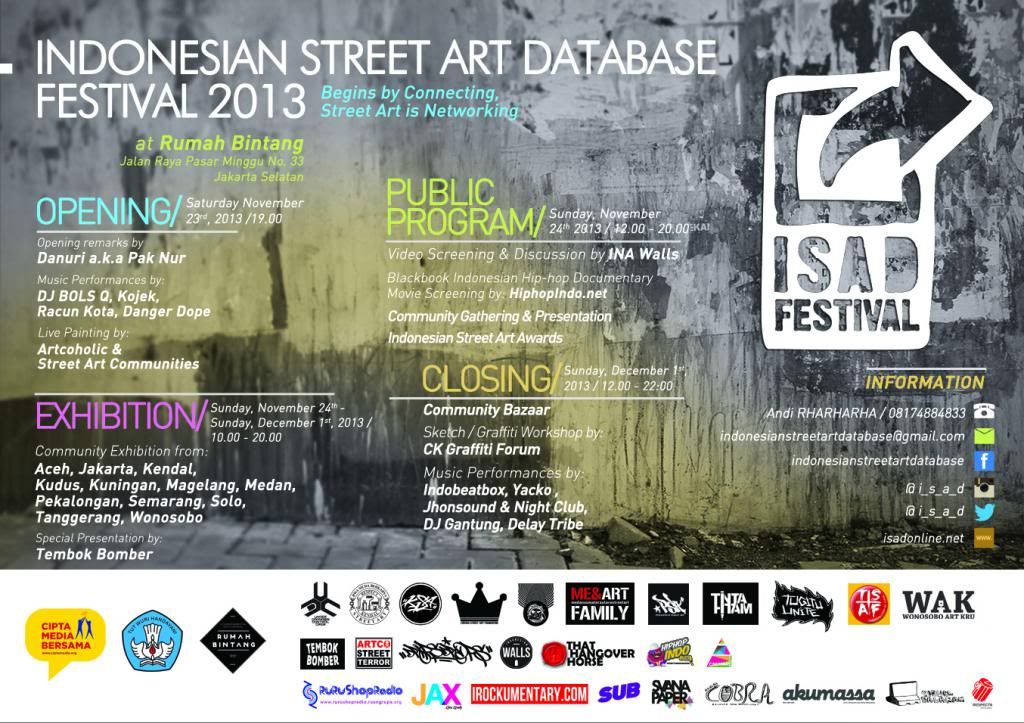 Street art is one of the art activities that took place in public spaces. Street art can present as 'town's artistic decoration', but on the other hand can also be present as an alternative media to vocalize the aspirations of social, political and cultural.
In Indonesia, the movement of street art getting more significant and sporadic in the last decade, not only in the big cities, but also in small towns. Yet, this development does not accompanied by documentation and archiving activities of street art in various media, such as images, videos, audios, and any other adequate written records.
Based on the fact, Indonesian Street Art Database ( ISAD ) that have been mapped and identified street art artists in Indonesia, especially Java, both individual and community, took the initiative to organize ISAD Festival. This festival will exhibit the journey and development of street art in Indonesia through the documentations and archives that had been managed by ISAD networks in 12 cities in Indonesia.
Indonesian Street Art Database Festival 2013 will exhibit a variety of archival photographs, posters, clippings, videos and texts on the development of street art in some cities such as Aceh, Jakarta, Kendal, Kudus, Kuningan, Magelang, Medan, Pekalongan, Semarang, Solo, Tangerang and Wonosobo.
In addition to this series of archive exhibitions, ISAD Festival will also be accompanied with some fringe events; screening of Hiphopindo.net, video screening and discussion with INA Walls, Indonesian Street Art Awards, a special presentation from Tembok Bomber, bazaars by art communities, Graffiti workshops by CK Graffiti Forum, and also music performances by Yacko, Indobeatbox, Jhonsound & Night Club, Kojek, Racun Kota, Dangerdope, and much more.
ISAD Festival 2013 will take place from November 23rd to December 1st, 2013, at Rumah Bintang, Jalan Raya Pasar Minggu no. 33, South Jakarta.
PROGRAMS
 
OPENING
Saturday, 23rd November, 2013 | 19.00
Inaugurated by Danuri a.k.a Pak Nur
 
Live Painting: Komunitas Street Art & Artcoholic
 
Music Performance | 19.35 – 22.00
DJ Bols Q, Kojek, Racun Kota, Danger Dope
 
EXHIBITION
24 November – 1 Desember, 2013
10.00 – 20.00
 
Archive Exhibition
Aceh, Jakarta, Kendal, Kudus, Kuningan, Magelang, Medan, Pekalongan, Semarang, Solo, Tanggerang, Wonosobo
 
Special Presentation of Tembok Bomber
 
PUBLIC PROGRAM
Sunday, 24th November, 2013
Video Screening & Discussion: INA Walls | 14.00
BlackBook; Documentary Film of Indonesian Hip-hop: HiphopIndo.net | 14.30
Community Gathering & Presentation | 16.30
Indonesian Street Art Awards| 19.30
 
CLOSING
Sunday, 1st Desember, 2013 | 12.00 – 22.00
Art Communities' Bazaar
Grafitti Workshop by oleh CK Graffiti Forum
Music Performance |18.30 – 22.30
Indobeatbox, Yacko, Jhonsound & Night Club, DJ Gantung, Delay Tribe