The Next Big Thing (No.9) : The Strypes
The Next Big Thing (No.9) : The Strypes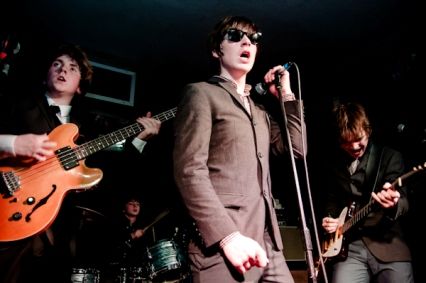 Ireland's lads have shown their fangs. The Cranberries and My Bloody Valentine are part of Ireland's music history, and not to mention the phenomenal U2 who have won 22 Grammy Awards. Now, it's the time for the young irish to take part on the track. The Strypes might be the strongest one who will break the mould. The band who were formed in 2011 consist of Ross Farrelly (lead vocals/harmonica), Josh McClorey (lead guitar/vocals), Pete O'Hanlon (bass guitar/harmonica) and Evan Walsh (drums). The band were formed by the schoolmates who have same passion in producing blues music, they describe their music as fast yet energetic rhythm 'n' blues. After a year they formed the band, their career started emerging in April 2012 when they released their first EP, "Young, Gifted & Blue" (contains of blues cover work like Bo Didley's "You Can't Judge A Book By The Cover"), and the EP went to number 1 in the iTunes Blues Chart just a day after it's released. "We released it in April 2012, It was a complete shock and surprise to see it number 1 in the blues chart, we had no expectations like that at all. It was recorded on an A-Track with my dad and we made the artwork ourselves too!" Said the Band on them peaking the chart.
After getting bunch offers from record labels (such as Universal Ireland), the Strypes were led to the higher stage of their career, they signed with Mercury Records in December 2012. The band decided to be guided by Mercury Records because of the simple (yet very idealist reason) the label don't seem will mess with them, just like what Jeff Back advised them " Don't get screwed by a record company! ". The path on their career has gone more obvious as they signed with Mercury Records, the band begin playing here and there where hypest events are held. Eventhough they are somelike a newcomer in the industry, their fans have crossed to the elite rows. Sir Elton John once commented to the band "They have a knowledge of R&B and blues at 16 years of age that I have only amassed in my 65 years. They're just like a breath of fresh air. "
On March 28th 2013, the band released their debut single " Blue Collar Jane ". So far, the responses to their debut has been radically positive.
Just because you are young it doesn't mean you don't sound, that's pretty much the best line to describe the Strypes. Day by day the band has become much bigger (as well as their fan base). Dave Grohl, Sir Elton John and Miles Kane are some of the big names who have turned into  the Strypes' listener. Seriously, do you think you have any reason to make you don't like this band? N to the O.