The Radio Dept. Live In Kuala Lumpur
The Radio Dept. Live In Kuala Lumpur
Swedish-oriented dreamy indie-pop band, The Radio Dept. will be paying a visit to Kuala Lumpur for Upfront's yet another anticipating gig. Formed in 1995, The Radio Dept. was first started by a couple of high school friends, Elin Almered and Johan Duncanson,  basing the name on a hometown gas station named Radioavdelningen. Although the band had gone through a lot of dynamic changes, that includes band member changes, The Radio Dept. have successfully recorded three studio albums, a leap which is quite remarkable for a band who started its musical career by recording tracks in an poorly lit studio, friend's living room or even at school.
Having five members by that time, (Johan Duncanson (guitar & vocals), Martin Carlberg (guitar), Daniel Tjäder (keyboard & synths), Lisa Carlberg (bass) and Per Blomgren (drums), The Radio Dept. had their first big break when their music was sent to Sonic magazine and got signed by Labrador Records who discovered the talents. Categorized as indie pop, the band has a sound of its own, a laid-back garage sound type of music, so-called shoegazing genre, where the music is deeply influenced by distorted rhythm guitars with introspective live performance (most likely uses effect pedals, that's why it's called shoe gazing!).
In 2003, Lesser Matters was released and the band gained new audience with a top nine rank from NME's 50 top albums of 2004. The song "Keen on Boys" and "Pulling Our Weight" got a foremost attention and became the soundtrack of Coppola's adaptation of Marie Antoinette. The thirteen-tracks album were a good kick start for the band's initial career. Unfortunately, three of the members bailed leaving a threesome formation of Duncanson, Carlberg and Tjäder. The second album, Pet Grief, did not get ratings as good as their first album, rated a 7 at best by NME.
Clinging to a Scheme, however, changed the critics mind, having a righteous 8 star rating by most music media, with singles from their third studio album, David, Heaven's on Fire and Never Follow Suit. The third album certainly changes the perception of the band's sound, from a low-profile indie noise into a more lively and bright music, despite of the melancholic lyrics of an unsung love.
It will certainly be another to-go event of the month, a delightful way to spend Friday nights with good friends, good drinks and most importantly, good music.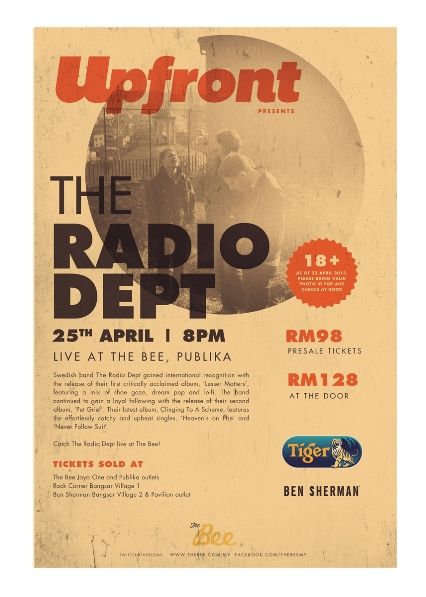 Date                 Thursday, April 25th 2013
Venue             The Bee, Publika, Kuala Lumpur
Tickets             RM 98 (presale)
                        RM 128 (on the spot)
Tickets on sale at The Bee Outlets (Jaya One and Publika) and Rock Corner, Bangsar Village 1. Entrance opens at 8 pm. Fair warning that this intimate event is 18+.