#WTF17 Announced Its First Phase Lineup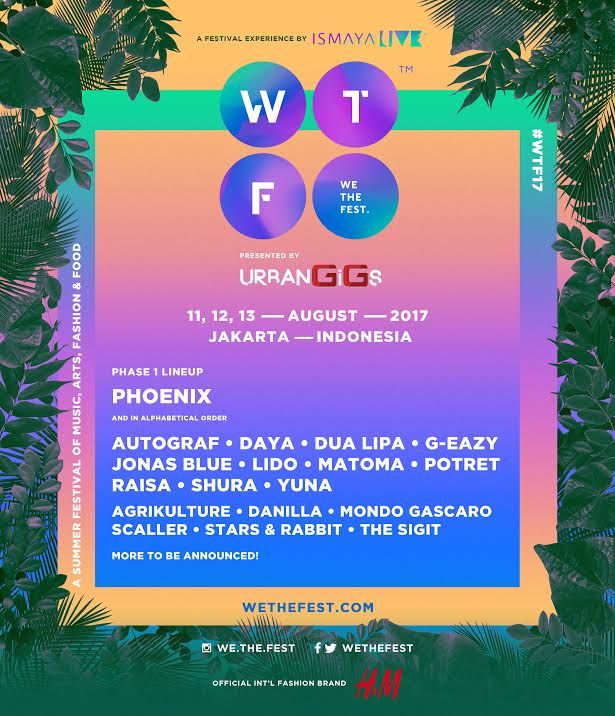 The yearly summer festival WE THE FEST presented by Ismaya Live announced the first phase of We The Fest 2017 lineup through a teaser video from Ismaya TV YouYube channel Friday, February 24th at 6 o'clock. 10 international acts were announced as the lineup of We The Fest 2017 they were PHOENIX as the headliner with AUTOGRAF, DAYA, DUA LIPA, G-EAZY, JONAS BLUE, LIDO, MATOMA, SHURA, and YUNA.
8 local musicians have also been announced to spice up the first phase of the line up, POTRET, RAISA, AGRIKULTURE, DANILLA, MONDO GASCARO, SCALLER, STARS & RABBIT, and THE SIGIT. There are more international and local acts going to be announced in the next few months to complete the lineup of We The Fest 2017 this August 11th, 12th, and 13th in Jakarta, Indonesia.
The teaser video that was directed by Gianni Fajri was 3 minutes and 44 seconds long and starred Carissa Perusset, Rahajeng Puspitasari, and Januar Kristianto, with Raisa, Scaller, and Agrikulture while dancing to Phoniex's 'Lisztomania'..
3-Day pass ticket to We The Fest 2017 sold since Monday, Feb 20th 2017 through We The Fest 2017 official website and ticket box listed in the website.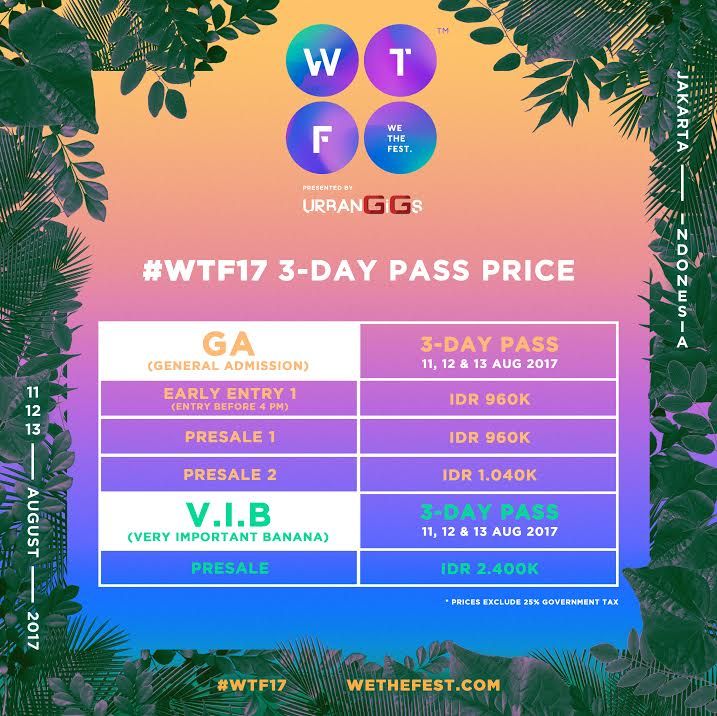 There are two ticket categories, General Admission (GA) and Very Important Banana (VIB). GA tickets – 3-Day Pass starting from Rp 960.000,- for 1st Early Entry which ticket holders need to get to the venue before 16:00 WIB and for Presale first tier ticket holders can come whenever.
VIB ticket – 3-Day Pass stared from Rp 2.400.000,-. VIB ticket holders will enjoy added facilities such as special VIB line at the e-voucher switching area and while entering the venue, VIB viewing area located right in front of the stage, VIB toilet, and VIB Bar.
The prices are subjected to 25% tax.
"A lot of names from the first phase lineup of We The Fest 2017 that we want to invite from long time ago" said Sarah Deshita as Assistant Brand Manager of Ismaya Live. " And of course there are a lot more that we're going to announce before the day of the event later on 11, 12 & 13 of August." continued Sarah.
Besides from the official website www.wethefest.com, tickets can be purchased from all Pizza e Birra in all Jabodetabek and Bandung, every Fook Yew restaurant, Sushigroove in Pondok Indah Mall, The People's Cafe Kota Kasablanka, Blowfish, Dragonfly, and Kithcentte Beachwalk Bali.
Ticket is also available at official We The Fest 2017 ticketbox at Alfamart, Alfamidi, Blibli.com, Bobobobo, Book My Show, Daily Concert, Goers, Go-Tix, Ibu Dibjo, Indotix, JD.ID, Lawson, Panorama Tour, Raja Karcis, Serbapay, Tiket.com, Viagogo, and Yes24 Indonesia.
We The Fest 2017 will be the 4th year the festival with the tagline " A Summer Festival of Music, Arts, Fashion & Food". Last year, as much as 26,000 people came to the 2 days event with international and local acts such as Macklemore & Ryan Lewis, The 1975, Mark Ronson, CL, The Temper Trap, Breakbot, Alina Baraz, Naif, Sheila on 7, Matter Halo, Barasuara, and many more.