A One Night Entertainment with Phoenix
A One Night Entertainment with Phoenix
A lot of things happened since the last time Phoenix visited Jakarta back in August 2009. They went on to win the Grammy, they came and conquered Coachella and Lollapalooza as a main headliner, they did an astonishing set with Daft Punk at Madison Square Garden, and their vocalist, Thomas Mars, has became an indie guy role model for most indie-enthusiasts for marrying his long-time girlfriend Sofia Coppola. So when Phoenix came back to Jakarta on January 17th, 2014 to headline an annual festival by ISMAYA LIVE, Love Garage, there are thousands of people flocking to EX Park in Central Jakarta to witness the "four-Parisien-brothers with a brotherly love".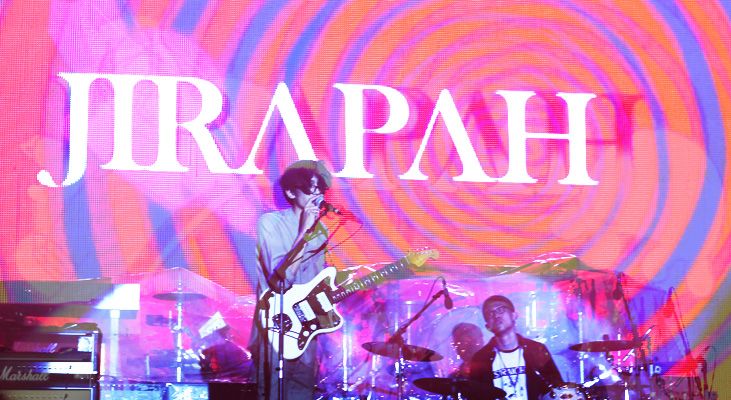 2 local bands, Protocol Afro and Jirapah have been granted a duty to kick-start the festival, and then afterwards, 2 British artists, Zero 7 and Fenech-Soler, have taken over the DJ booth and started to drop mesmerising tunes that satisfied the crowd. During Fenech-Soler's set, a heavy rain started to pour. January and February have been known as the peak of rain month in Indonesia. So that is why, the promoter has provided a lotsa raincoats for the crowd. But sadly, the rain hasn't showed a sign of stopping even right before Phoenix were going to start their set. However, the show must go on, right at 10.30 pm, Phoenix came on stage and started their set with "Entertainment". The crowd went nuts straight after the first note of the iconic intro was played. No matter how hard the rain was, they crowd didn't seem to care. They were just trying to mimic the sound of the iconic intro and sang their hearts out to the chorus of "Entertainment". There's no break yet, because straight after "Entertainment", and iconic, heart-thumping drum intro of "Lasso" was played followed by a long chord of crowd singing. Afterwards, another iconic intro was played, this time it was an iconic intro of "Lisztomania", a hit from their Grammy-winning album, "Wolfgang Amadeus". "Long Distance Call", "Too Young/Girlfriend", "The Real Thing" and "Fences" came straight afterwards. Phoenix came again with another medley from their brand new album, "Trying To Be Cool/Drakkar Noir/Chloroform". The rain has stopped for a while during a mash-up of "Love Like a Sunset Part I & II" and "Bankrupt". The screen on stage began to show a video of Street of Paris in 1970s. Phoenix's guitarist, Laurent Brancowitz once said in an interview that the best place to listen to music is in a car. Probably that is why the visualization at the screen was from a point of view of a car. However, straight after the song ended, the rain began to pour again. And it was a heavy one. I've never experienced that kind of wet again since the last time I had my first wet dream. A hit from their 2006 album, "Consolation Prizes" followed by "S.O.S in Bel Air" and "Armistice" was played straight afterwards. During their next song, "1901", no one thought it could be their last song of the night.
Thomas Mars was standing right in front of the crowd, if it wasn't for the rain and the sea of plastic raincoats, he must've been jumped into the crowd. The rain began to pour much longer and way stronger. Finally, the song ended and Thomas said, "Thank you so much, Goodnight". Even though the crowd began to shout for an encore with their hearts out, there is no sign of coming back from the boys. The gig has ended. Turns out that Phoenix still has two more songs on the setlist, "If I Ever Feel Better" and "Rome" but for safety reason they opted to end the set right after "1901". For some people, it might be a disappointing end of a great show. But Phoenix have showed their capacity and tried to conquer the rain. Even though they were struggling to cope with the weather and the stage condition. Deck was forced to play his synth right next to the drum set because of the rain, Christian had some difficulties to play some of his guitar part and Thomas Mars was soaking wet. They have tried to deliver their best, brotherly love and Jakartans should've been thankful for having them, again.