BANKS to Perform in Jakarta This July
American alternative R&B singer BANKS is set to perform in Jakarta on Saturday, 15 JULY 2017 in her first Jakarta solo concert entitled BANKS LIVE IN JAKARTA that will be held at The Establishment, Lot 6 SCBD. BANKS has previously performed in Jakarta at the first ever edition of We The Fest in 2014.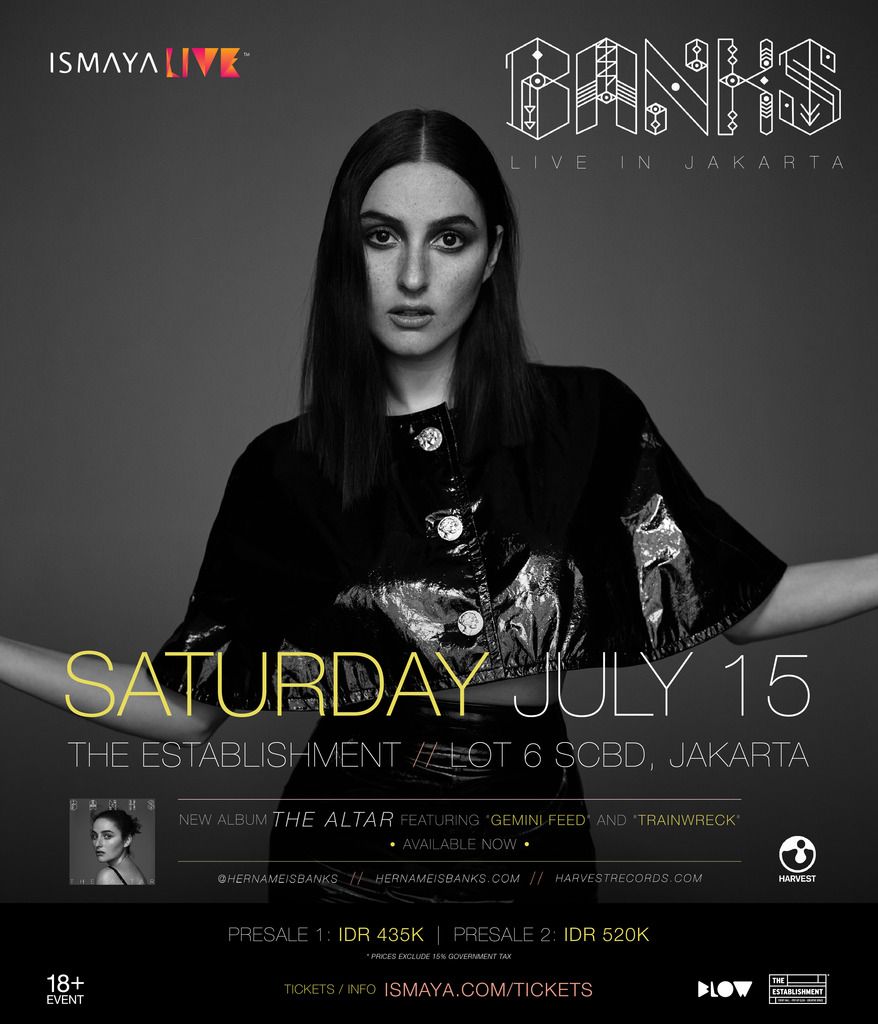 Throughout her career, BANKS has released two critically acclaimed albums which are Goddess in 2014 and The Altar in September 2016 featuring hit single 'Gemini Feed'. BANKS toured with Canadian singer The Weeknd twice as his opening act in 2013 and 2015 before embarking on her own international tour which includes performances at world-renowned music festivals such as Coachella and Bonnaroo in the States, and St. Jerome Laneway Festival in Australia and Singapore.
"BANKS has got a lot of fans in Indonesia and Jakarta especially. We are very excited to finally bring BANKS for her very own concert in Jakarta." said Sarah Deshita as the Assistant Brand Manager of ISMAYA LIVE, the promoter of the concert. "When she came here for the first time to perform at We The Fest in 2014, she only had one album out. Now with two albums, her performance this July will certainly be different and much more captivating that ever before."
Tickets to BANKS Live in Jakarta are on sale starting from Friday, 3 March 2017 at 6 PM Jakarta time through www.ismaya.com/tickets. There are two ticket categories; presale 1 priced at Rp435,000 and presale 2 priced at Rp520,000. Prices are excluding 15% government tax. Tickets can also be purchased at all Pizza e Birra restaurants in Jabodatebek area and in Bandung, all Fook Yew restaurants, The People's Café Kota Kasablanka, Sushigroove Pondok Indah Mall 2, Blowfish, and Dragonfly.
This event is an 18+ event.