Clockenflap: Hongkong Multimedia Arts & Music Festival
Clockenflap: Hongkong Multimedia Arts & Music Festival
Like numerous major international festivals such as Coachella (US), Glastonbury (UK) and Fuji Rock (Japan), Clockenflap has played a colossal role in showing off numerous groundbreaking artists of the 21st century. Apart from presenting renowned international artists such as Klaxons, Bombay Bicycle Club, Austra, Mac Demarco, Azealia Banks and Britpop legends Primal Scream, Clockenflap has also emphasized the importance of local musicians in Hong Kong's urban culture. Indie folk group Noughts and Exes, heavy metal duo DP and alternative rockers Chochukmo are just a few of this metropolitan's many talented acts that have performed at this momentous event.

This year's headliner is Scottish rock band Franz Ferdinand, who are dropping by this festival, to promote their highly anticipated LP, "Right Thoughts, Right Words, Right Actions" to festival goers at Clockenflap. Along with them are popular indie group Two Door Cinema Club, disco band Chic feat. Nile Rodgers and local Cantopop princess, G.E.M..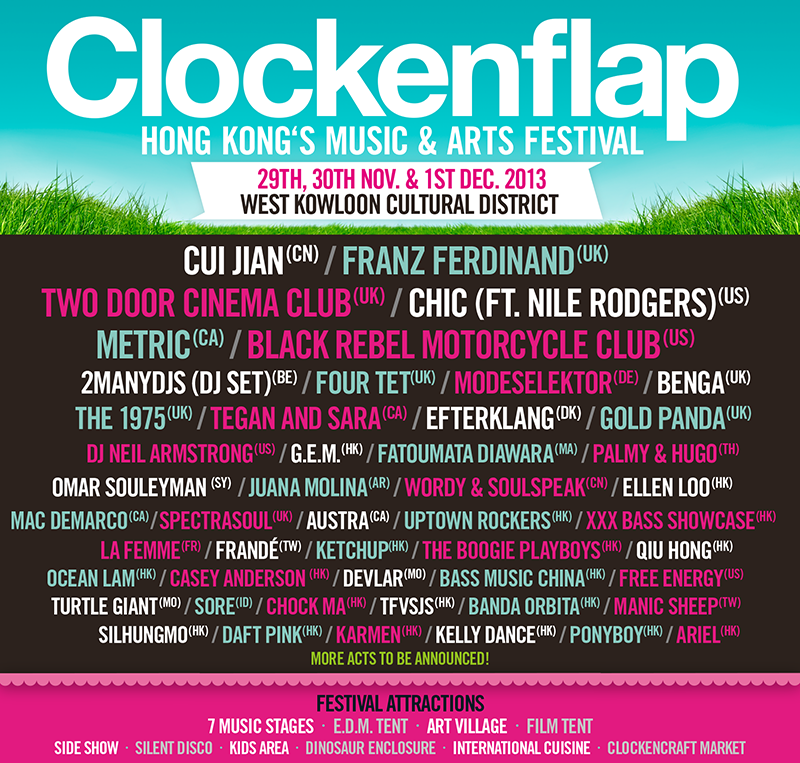 With more exciting musical acts, art instillations and contemporary films yet to be announced, Clockenflap 2013 will not just be one of the most exciting celebrations of modern culture in Hong Kong, but an internationally recognized event for the world to experience.
FESTIVAL HIGHLIGHTS
ART VILLAGE: Curated by Aidan Li, in partnership with Clockenflap, the 10,000- sq.m.-sized Art Village will feature inspired and intriguing art works and multi-media installations by a talented mix of local and international artists. plus
MARC & CHANTAL DESIGN: The specialist creative/design agency presents a surreal "Cloud" installation for all to experience. VANS: Slick street style and raw creativity have inspired the VANS "OFF THE WALL" skateboard art wall and workshop, where festivalgoers can create their own VANS x CLOCKENFLAP merchandise.
ZIPPO: Look out for two giant ZIPPO lighter art pieces by popular young Hong Kong artists, Little Thunder and Telephone Fung.
FILM TENT: Curated by Janel Yau, featuring content from international film festivals, directors and animators, the Film Tent offers a cinematic escape for festivalgoers. plus BRITISH COUNCIL HONG KONG AND UK TRADE & INVESTMENT'S GREAT CAMPAIGN: Festivalgoers are treated to a very special outdoor screening of "Restored Treasures: Captivating Hitchcock Silents – Blackmail (1929)," with live music by Stephen Horne, renowned as one of the world's leading silent-film accompanists.
EFTERKLANG: Copenhagen-based band Efterklang presents "The Ghost of Piramida," a film project they initiated, directed by Andreas Koefoed and soundtracked by the synth-laden Apples. NELLY BEN HAYOUN: French experience designer Nelly Ben Hayoun presents "International Space Orchestra," about her mission to assemble to world's first orchestra of space scientists from NASA's Ames Research Center, SETI and the International Space University.
CABARET: Curated by local men's fashion/lifestyle brand Moustache, the "Bearded Lady Side Show" will feature a wild array of glitzy, glam and downright bizarre performances. With a house band of equal oddity providing laidback ambience throughout the weekend, this brand new addition to the festival is not to be missed! plus
NEW ERA: Working with Clockenflap for its second year, headgear specialist NEW ERA has booked dancers from hip-hop themed movie, "The Way We Dance," to entertain all, as well as created exclusive NEW ERA x CLOCKENFLAP merchandise (beanies, caps) available for purchase.
CLOCKENCRAFT MARKET: Families and festivalgoers can take a breather — and have a look and shop at the popular Craft Market, packed with lovely locally produced and unique handmade items.
DINOSAUR ENCLOSURE: For the first time in history of Hong Kong — terrifying dinosaurs and beasts, replete with scary and spiky bits, shall roam the West Kowloon Cultural District!
FOOD & BEVERAGE STALLS: With 23 vendors and 26 outlets serving up food and beverages over three days this year, festivalgoers and families can enjoy all day (and night!) at Clockenflap, fuelled by the yummy likes of Ali Oli, Brickhouse, Little Burro, Lola's Ice Pops and Pizza Express.
KIDS AREA: Supported by Rumple & Friends, the Clockenflap-styled bouncy castle will make an appearance, along with arts and crafts workshops, kid-friendly music & entertainment performances, face painting, stilt walkers, and much more!
SILENT DISCO: In 2012, Clockenflap unveiled the Silent Disco concept to perplexed and amused festivalgoers. This year, expect even more headphones, supplied by Clockenflap's official sound sponsor SENNHEISER, and a few additional surprises!
Check out The AU Review interviewing with Justin Sweet – the man behind Clockenflap festival:
Tickets will be on sale from September 2 on www.ticketflap.com
Early bird prices:
HK$480 – Friday
HK$580 – Saturday or Sunday only
HK$980 – Three-day entry
(Student discounts are also available, and kids aged 12 or under will have free entry)