Delphic : Alternative Dance Labor Day
Delphic : Alternative Dance Labor Day
Being third on the list of BBC's New Sound 2010 just below two eminent female artists from the UK, Ellie Goulding and Marina And The Diamonds, Delphic proves that they come nothing short ofthem at their first Malaysian-staged concert held on the 1st of May where they gave it all with songs from their albums "Acolyte" renowned for chart-toppers like 'Doubt' which is highly credited for elevating the Delphic name to a whole new level, "This Momentary", along with songs from "Collections", their latest album which was released in early 2013. With all this being said, much is too be expected from their live performance here in KL.
What better way to start a new month with a concert and nothing is better than Delphic which is well-known for their alternative-dance style.Opening the show was local talent that is nothing short of amazing (not to be mistaken with the greenpeace movement though) Kyoto Protocol!As an upcoming alternative indie rock band of Malaysia which a resume that boasts their countless performances as the opening act for an impressive streak of International acts such as MGMT and We The Kings, they make the perfect fit to warm the crowd up just before Delphic comes to stage. At ten-to-nine, Kyoto Protocol took center stage with such panache psyching the crowd after performing their hit "Never know" that Delphic would come on but NO! They progressed with performing their new hit single "KL I love you" and ended with chart-topper "Give Me Nothing".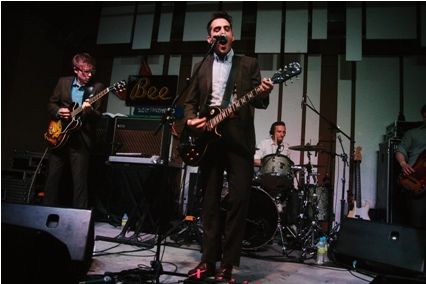 The night progressed and the crowd has been pumped up just enough to get their dancing shoes ready for the highlight of the night, Delphic. The quartet of a band consisting of James Cook, MattCocksedge, Dan Hadley, and Richard Boardman (might I add that they all look like they came casino online right out of Lookbook) went up with such dapper style and opened with their new hit 'Baiya' from their latest album.  The second they started performing the crowd went wild and they continued with such energy till the end of the set.  The band really got the crowd's attention by alternating songs from their new album and their hit freshman album with "Halcyon", "Red lights", and some from their new album "Mameo" and "Of the young". Throughout the whole set I personally couldn't shake off the feeling that the lead (Cook) looks ridiculously handsome and had a vibe to him that reminded me of Morrissey of The Smiths, from the way he swung his hips and to the way he flipped his hair. Maybe it wasjust a Manchester thing that I don't now about. Another interesting point to note was that the rest of the band also had their own signature moves going on, with Matt and his awkward but lively footwork, and Dan with his intense head nodding.
Aside from the unfortunately poor audio quality with the overpowering pitch from the guitar and Boardman's microphone being a tad too soft, the night as a whole met my expectations.  At the peak of the night, after the lights went dim (as requested by the band) they hit it up with their cherry to our already-indulgent sundae, "Doubt"! Oh hot fudge-cakes, this performance was beyond mind-blowing that gave us this intense rush of emotions permeating through the floor.  These people really don't hold back when it comes to performing live. Right after, they announced their set over (BOO!!!) but only to come back on stage (what a tease!) to perform"Clarion Call", their adieu to the whole show. Well, there they were on stage in Kuala Lumpur for their very first time and as the cat-calls indicated, the crowd loved them. Delphic definitely gave their well-acclaimed 5-star live performance that Brits and Asians(and everyone else) truly love. (Zafran Aqil)