Reasons Behind Their Iconic "Masks"
Reasons Behind Their Iconic "Masks"
Using a stagename is one of examples of musicians in their alter ego, or maybe like Lady GaGa, she has her male persona, Jo Calderone. Another example, David Bowie, he once became Ziggy Stardust. But, some musicians decided to be a total different person by hiding themselves with a mask or scary make-ups. Like Daft Punk and Kiss, they have been asked about the story behind their "second" identity, you'll find out the reasons below.
1.Kiss : Starchild, The Demon, Space Ace, Catman


Real Identity :  Paul Stanley, Gene Simmons, Ace Frehley, Peter Criss
History           :  The makeup of each member of KISS is inspired by their individual characteristics. The Starchild is a hopeless romantic. The Demon is the one with a dark side of humor. The Space Ace is a reference to Frehley's love of science fiction, and The Catman was inspired by the fact that Criss felt he had nine lives due to the rough Brooklyn neighborhood he grew up in.
Why?                   : The influences of Kiss' make up are inspired by theatrical bands like Alice Cooper and the New York Dolls.
2.Deadmau5
Real Identity         : Joel Thomas Zimmerman
History                  : The story behind it was very surprising! Zimmerman's stage name was inspired by a dead mouse that he found in his compter. The story started growing rapidly in chatrooms, and he was constantly referred to as "that dead mouse guy." After that, Zimmerman changed his username to Deadmau5.
Why                             : Deadmau5 doesn't like being called a DJ. He feels that the term is highly-antiquated and an improper description of his approach to music.
3.Slipknot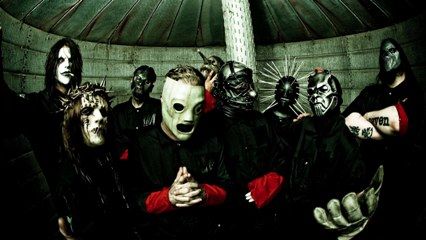 Real Identity           : Sid Wilson, Paul Gray, Joey Jordison, Chris Fehn, Jim Root, Craig Jones, Shawn Crahan, Mick Thomson, Corey Taylor
History              : The idea was inspired by Crahan's clown. Crahan often brought it to rehearsals, then the band decide to scope the concept. The jumpsuits, along with their numbered aliases, are intended as a commentary on the commercialism of the music business.
Why                  :The reasons behind it is to make people to be more focus on their music instead of their physical appearance. "It's our way of becoming more intimate with the music," vocalist Corey Taylor told NY Rock. "It's a way for us to become unconscious of who we are and what we do outside of music. It's a way for us to kind of crawl inside it and be able to use it."
4.Bucket Head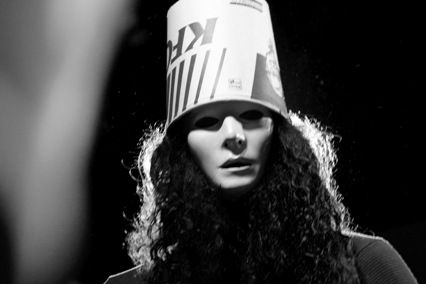 Real Identity : Brian Carroll
History : "Buckethead was raised by chickens, according to his official story. He lived in the coop with them on a farm run by evil owners. One day, the chickens scratched his face off, but Buckethead didn't care. That just meant he got to wear a mask everyday like on Halloween. The Bucket came into his life when the evil farmers threw a bucket of fried chicken into the coop. Buckethead tried to put the poor chicken back together again, but he just couldn't make it work. Of course the most logical thing to do then was to start wearing the bucket as a hat. Buckethead started playing guitar to add a soundtrack to the horror and sci-fi movies he would watch at the drive-in theater through the hole in the farm's fence. The drive-in was too far away for him to hear. Now Buckethead travels the world playing his songs and informing the public about the terrible things his feathered friends are being subjected to in fast-food restaurants around the world." What a long story.
Why : It's still a secret, but when he was asked by MTv about his mask, and he simply replied "There is no mask."
5.Daft Punk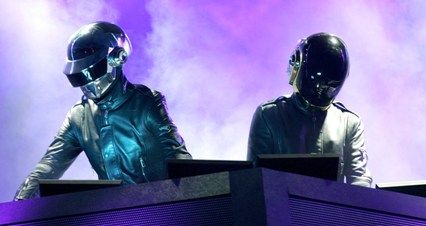 Real Identity : Guy-Manuel de Homem-Christo and Thomas Bangalter
History : "We did not choose to become robots,". According to Thomas, he stated that he and Guy-Manuel were in an accident on September 9th 1999 in their studio. They were working on their sampler, then their studio exploded Thomas Bangalter reportedly once said. "There was an accident in our studio. We were working on our sampler, and at exactly 9:09 a.m. on September 9, 1999, it exploded." When they woke up, they found out themselves had become a robot!. Well, this could be a good story for a movie.
Why  : There are two reasons, 1. Shyness. 2.They want people to recognize their music more than people recognize their real identities.
Source : www.pastemagazine.com