The Beautiful Chaos of Mogwai
The Beautiful Chaos of Mogwai
It sure isn't easy being a touring musician. What more with a band like Mogwai, who have to lug around no less than 6 amps all across the globe. Die-hard fans leaped over the moon when it was announced that Mogwai would be returning to KL after almost 5 years since they last set our ears ablaze with their signature wall of sound. The venue was packed with eager post-rock fan boys that look like they were in a local 4-piece post-rock band of their own — no doubt many of whom were inspired by Mogwai's shoegazey sounds that have paved the way for the Malaysian post-rock scene.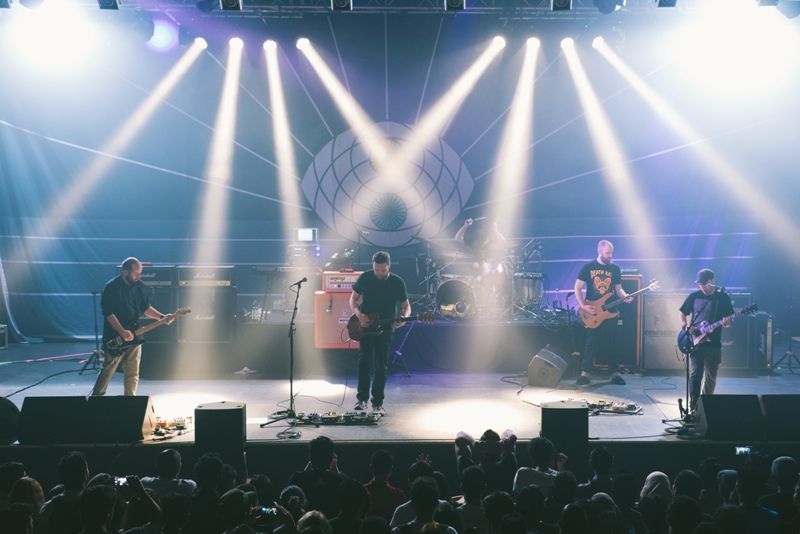 Mogwai's return to the Malaysian stagefront was greeted with thunderous cheers and applause from fans who patiently waited through the soundchecks that seemed to have lasted for an eternity. The Scottish boys kicked things off with "Heard About You Last Night" from their latest release, Rave Tapes which was graced the title of number 1 best selling vinyl LP in the UK.
Even watching the band switch around their instruments amongst themselves was like watching a graceful dance, with the multi-talented boys never missing a beat when transitioning from one song to the other.
Playing with the soft-loud dynamics at ear-shattering volumes that would make Kevin Shields of My Bloody Valentine proud, the euphoric sensation started kicking in where feedback and noise began to morph into sweet music. Many of the audience members seen closing their eyes and letting their body sway to the rhythm as they plunged 30 feet deep into their inner realms, surrounded by the atmospheric feels of Mogwai's music — while instrument fanboys could be seen salivating over bassist Dominic Aitchison's Travis Bean bass guitar and guitarist John Cummings' ultra rare Fender Electric XII 12-string guitar.
With Malaysia being the last stop for this leg of their tour, guitarist Stuart Braithwaite wasn't stingy at all with his gratitude as he kept thanking the responsive crowd at the end of each song. The band saved the best for last with clear fan favorites "Hunted By A Freak" and "Mogwai Fear Satan." It was uncertain if the audiences left with the same hearing abilities they had at the start of the night, but with a performance like that, it is certain that no fan was left unsatisfied.
(Othniel T)