Thumpers: The Unusual Sound of Joyful Music
Thumpers: The Unusual Sound of Joyful Music
Most of us probably have heard about Marcus Ratcliff / Pepperell and Jack / John Hamson Jr (not sure why they end up having two names) from Pull Tiger Tail, but after they decided to go on separate ways, we haven't heard much about their collaboration until we found about this joyful beat, like celebrating something songs, you know those mixing sound of Polyphonic Spree and Flaming Lips in a good way – in early 2012, well, to be honest I found about this band while checking out Jack's twitter page and accidentally listened to Thumper's songs, which I found really nice.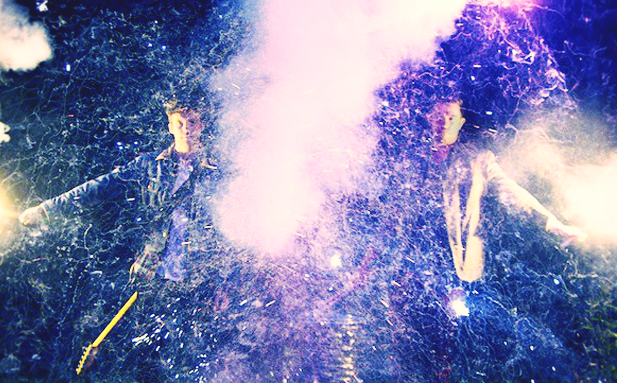 Anyway, after changing ideas while doing their own projects, the two are back making new sound of electro pop by swamp instruments, play a bit of everything, and with a little help from their family and friends, they produce something they called drum-heavy, co-ed alt pop music. So after seeing their progress, we decided to ask some questions to Marcus & Jack between their busyness of having gigs and completing their debut album.
How did you end up with Thumpers? both of you don't look like two rabbits, are both of you like to watch Bambi?
Ha, it was more to do with writing rowdy offbeat drum loops than anything disney-related. nothing wrong with bambi though, we're fans.
Is this your side project or your main band or all bands treat equally?
This is the main project for both of us but we're definitely not the type to rule out future side-projects – or collaborations. we both think bands become so much better for having other outlets and co-writers…
I think Thumpers will potentially become great with this kind of upbeat, joyful drumming, you know the type of music you use when celebrating something, in which I think the world needs to hear this kind of music more than those sad songs, but why the progress are kinda slow? I've heard about the band for some time already yet only few songs released..
Our first song went up online for our friends very early in the band's history and at that time we were pretty amazed at how quickly other people found it and responded to it. since then though we've avoided playing too much to give ourselves time to get out of london and write and record our debut album. we've now almost finished this so hopefully we'll be able to drum new joy into more people really soon.
So how do you describe your own music?
This is always a tough one. we usually go with "drum-heavy, co-ed alt pop".
Do you think that your other bands, let's say like Friendly Fires, Noah and the whale, etc etc has influenced the sound of Thumpers in some way?
Any group of musicians that you play with for such a long time and that intensively will affect how you write music to some extent if – as with both NOTW and FF – you like their songs and sound. that said, though, i think that because jack and i had a pretty clear vision of the kind of sound we wanted to make that influence was limited quite a lot in our case. we knew that we wanted to write songs that veered between heavy drums and dreamy boy-girl vocals and i think that dynamic sets us apart a little bit from projects we've played with before.
You just released "Dancing Done" but not so many people have heard about it especially in Asia, but if it goes through, what kind of reaction you would like people to have when they listen to the record?
Mainly i hope people feel uplifted. although there's a melancholy side to the lyrics of the song the overall sound and message of it is positive. There's something about hearing group singing that can make your heart swell. that's the aim for us.
Which song do you like to introduce to people who never heard about your music before?
Watching the sound of screams video is probably the shortest-course introduction to our music. Our friend Alex Brown, who directed the video, found such a great way to bring out the giddiness of the song in the firework visuals that he shot.
When you're not making music, what kind of things you guys like to do to occupy your time on earth?
Hmm.. photography, design, cinema-going, reading crime fiction. Jack makes a mean dauphinoise potato.
–
Well well… we surely can't wait to hear more from their debut album while waiting for those potato to be baked!