Lydmor : Nordic Queen of Sound
Lydmor : Nordic Queen of Sound
Singer and songwriter Jenny Rossander – aka Lydmor – creates music that transports your senses to an ethereal dimension; causing you to lose yourself to the rhythm of her melodic electro-pop tunes paired with an edge of darkness in it's lyrics. As energetic and quirky in real life as she is on stage, we got to have a chat to this Danish queen of quirk before her first Asian show at the Bee.
We've heard about your involvement in the Danish Cultural Institute's Flikrkus Project, could you tell us more about it? And how exactly would you properly pronounce Flikrkus in Danish?!
Hah! It's actually pronounced as Fleekush.
It was about 4 years ago when the Danish Cultural Institute were having a jubilee to celebrate their 20 years anniversary. And they started this weird free project, where they rented a bunch of vans and campers and you could use the campers to do whatever you wanted, as long as it's interactive.
So I basically packed up my whole studio into a van and recorded people. I wasn't very good at it though. At that point, I just bought my studio and I was still getting a hang of everything, so I would make it ring in their eyes and mix it horribly. But it was a fun experience. And that's also where I got my name! There was a girl with a flute that they used to call flute mother, so it was there that people started calling me sound mother, which is Lydmor in Danish.
So what're you looking forward to the most on your Asian tour?
Well as this is my first time in Asia, I'm definitely looking forward to seeing Asia itself and to experience the culture here. I'm also looking forward to see how people will interact with my shows. I mean the audience is definitely going to be different than in Europe. So it'll be interesting!
You did a 'trust tour' last December where people could just hire you to play private shows, as long as they pay for your ticket to the gigs location. What inspired it?
I was bored! I forgot to tell my booker to book some shows and nothing was happening in my music at the time. So I didn't have any shows to play or anything to do and I was so bored! So I thought, "fuck it! If I can't play any shows in clubs, I'll just play in peoples living rooms!"
On an impulse, I just posted a video on Youtube saying "hello, can I play in your living room?" and one week later I had 21 gigs in 4 different countries lined up.
It was incredible though. I played to everyone; from big student parties to a group of 3 teenage girls in a living room.
How was the experience playing to an audience of just 3 teenage girls?
It was so weird. I was sitting on one side of the sofa with my keyboard, and they were just sitting there watching me. It was hilarious as well though because they were in their early teens and wanting to look cool, so they would say things like "Oh we always party in downtown with these guys who are older than us." I think they really wanted me to think they were cool. Hah!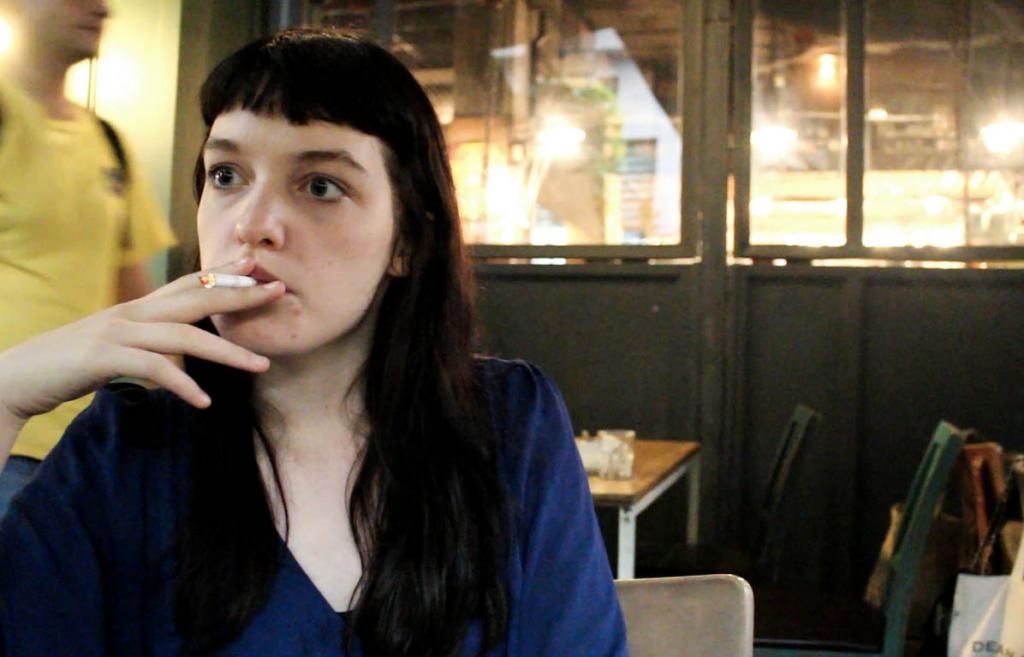 What was your best and worst moment whilst on the trust tour?
The best would have to be in Holland, I spent like 5 hours just hanging out there after I played just talking to people and getting to know the students. It was so warm and everyone was so open!
As for the worst… It has to be when I was stuck in Hamburg central station without my phone. I'm a bit distraught and lose phones very often, and I lost mine then. There was this girl who was supposed to be picking me up, but she was caught in traffic and had no way of contacting me.
There I was, walking around central station awkwardly with my laptop open trying to find a hotspot, being snubbed by all these German people passing by. And when I finally found a hotspot, I needed to receive an SMS to activate it… But my phone was lost. That was such a bad moment.
I ended up having to go into this really seedy and dodgy net cafe to Facebook message her. I found her in the end though! So at least it ended well.
Would you do a trust tour again?
Yes! Since I started touring internationally my calendar is filling up very quickly, but as soon as I have time where I'm not doing anything, I know I'm going to do another one.
Would you come to Asia on our trust tour?
Definitely, but it'd definitely be very expensive for someone to buy me a plane ticket here. Unless it's a really rich person I guess!
We've read that if you weren't a musician, you'd want to be a movie producer; so what's your favourite film?
Mary and Max!
Favourite producer?
Lars Von Trier, he's very dark, but for something lighter, Emir Kusturica. He makes very special, weird movies.
In one of them, the soundtrack is some weird Balkan music with trumpets and tubas, and the whole time, the band is in the movie. So if the characters are in the car, the musicians would be running along side them, and there's no explanation.
I guess the directors thought that it'd be so weird to have a soundtrack when the musicians aren't in picture, so they'd just have them in picture all the time.
If we funded you to produce your own movie, what would your movie be about?
I'd want to make a movie about loneliness; it's such a complicated feeling that everyone tries to hide. And no one wants to appear lonely. Especially now with social media, everyone thinks that "I have likes on Facebook. I'm not lonely."
I'd like to make it an art film. Not with a lot of dialogue, but with lots of pictures and some nature shots here and there. Something very visual and surrealist. Loneliness in the context of social media.
Could you name us a few Danish bands the world needs to know about?
When Saints Go Machine, they're so talented. It's electro-pop synth heaven. And Helmet Compass, my boyfriend's band. They're a mixture of psych-rock and house music. Very 90's.
(Text & Photos : Adeline H)