Rockin' the Thai Youth at Big Mountain Music Festival 5
Rockin' the Thai Youth at Big Mountain Music Festival 5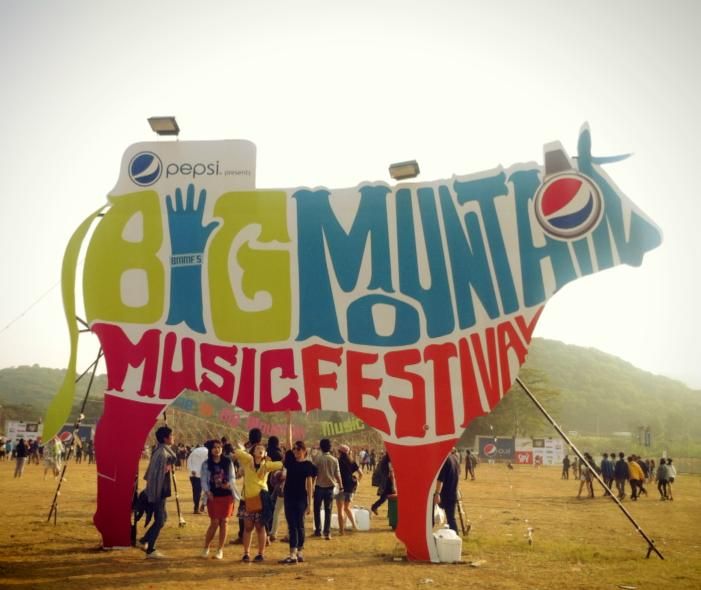 As political climate was getting hotter and hotter in Bangkok, many Thai youth and those still young at heart got together, sneaked into a weekend escapade free from all restraints, and immersed themselves in their musical paradise at Big Mountain Music Festival 5 at Bonanza, Khao Yai, Nakorn Ratchasima. BMMF, more or less a Thai version of Glastonbury, was celebrating its 5th anniversary this year with even bigger line-up including Black Rebel Motorcycle Club (BRMC) and Austra. The festival itself is a kind of a warm-up for those amateur festival-goers who want to go for something bigger and more challenging than just a small festival. Set up on a northeastern mountain, the expansive venue was the perfect backdrop to 8 stages where over 65,000 attendees  enjoyed their favorite music to their hearts' content. Just imagine over sixty-thousand people flocking, drinking, dancing, singing, and camping together… That must be a helluva fun!
Armed with bundles of colorful clothes suitable for both summer and winter (as it was scorching hot during the day but very chilly and cold during the night), we were ready to rumble. On our trek to the venue, we saw a large number of festival-goers putting up bright blue tents in which they would sleep for 2 nights; the sight prompted us to the realization that this was going to be our first real music festival. There were 8 different stages where hundreds of artists were going to perform. Each stage boasted different landmarks, for example, Harn Stage, where we mainly rooted, was represented by a couple of giant geese ( 'harn' means 'goose' in Thai), Ferris Wheel Stage was set against a spectacular ferris wheel backdrop, while Sticky Rice Sound System Stage was set in a giant sticky rice bamboo container. Besides music, attendees could also enjoy other assorted activities including a 3D haunted house, experimental art performances, and Kai Jeaw City (Omelette City), signature of BMMF itself. At Kai Jeaw City, 10 omelette shops competed to be the winner voted by us egg-lovers. Definitely, we wouldn't miss the chance to experience the acclaimed and somewhat legendary tasty omelette. Throughout the festival, we had tried 8 out of 10 shops and  came to the conclusion that despite their various nuances, the omelette themselves tasted more or less the same, so we could not really rule out which shop was the best.
The highlight of our first night was the Canadian synthpop band Austra. After the lengthy soundcheck, the band came on stage with "What We Done?" The lead singer, Katie Stelmanis, dressed in bright red blouse and black trousers, dashingly resembled Stevie Nicks disguised in Anna Calvi-like garb. Well, their music and performance, along with a little sound distortion, caught many audience unawares at first as this was quite new to many Thai listeners (We even overheard a teenage girl telling her friends that this was a kind of music popular among Russians!) However, after a few songs, their unique music and eccentric performance by band members just kinda grew on them so much so that many audiences were more than willing to join in the dance. The band played their usual setlist from Feel It Break and Olympia, including "Forgive Me," "Painful Like," "Home," etc. Throughout their 60-minute performance, the three ladies, namely Katie and the twin backing vocals Sari and Romy Lightman, sang and danced in such a mystical manner that we could not help but thought that these were the three Shakespearean witches from Macbeth springing into life to perform some kinda magic trick on us. That was such a spell they cast at BMMF5. The climax of the show came when the band played "Lose It." A lot of festival-goers began to dance and lost themselves in the song, while some others (including us, of course) also sang along. We may not claim that we could 'feel like break' during Austra's show at BMMF5, but we sure agree that the band did break the wall in many people's hearts and occupy some room there.
Our most-anticipated show of the festival definitely went to Black Rebel Motorcycle Club. After over-a-decade-long tossing and turning, Thai BRMC fans' dream finally materialized as the band made their first appearance in this Land of Smile. The show was like a rendezvous of 90s kids who  have given 'their hearts to a simple chord and their soul to a new religion' ever since the formation of the band in 1998. We could see a plethora of BRMC fans dressed in black as a reverence to their garage/ post-punk/ blues rock gods. The San Francisco trio came on stage clad in their signature black outfit, the mere sight of which drew cheering crowd into a somewhat hysterical scream. Guitarist Peter Hayes, despite the sign of fatigue (which may be the inevitable toll of the years or simply the result of their long tour), gave one of his best performances in his typical, self-assured style; bassist Robert Been strummed the bass in his usual aggressive manner. While this whole time the limelight was mainly cast on Peter and Robert, drummer Leah Shapiro kept calm and did her superb job, adding that pounding, percussive edge to the post-Jago sound of the band. BRMC started their brief session with the cover of Robert's late father's band, The Call, "Let the Day Begin," and thus commenced our night of euphoric rock 'n' roll delight. Next came "Beat the Devil's Tattoo," in which fans (some definitely in drunken stupor) joined in the singing.  Many favorites, with the likes of "Rival," "Hate the Taste," "Berlin," and "Conscience Killer," were performed with natural cheering from the crowd who always sang along with their hearts out, letting their love for the band became known. During "Ain't No Easy Way," the image of Peter playing harmonica on stage gave a slight Dylanesque tinge to the set. The penultimate song on the setlist was the theme song of our age of teenage-angst, "Whatever Happened to My Rock 'N' Roll (Punk Song)," in which fans sang, danced, and cheered like mad. When Robert announced that the next song was gonna be the last one, grunts of disappointment could be heard everywhere among the fans, some of whom paid the full 2-day admission fee simply to see BRMC live. The crowd started to hum and sing "Love Burns" as the plea for the band to play this song. However, to our disappointment (again), BRMC did "Spread Your Love," which, nevertheless, did please and send us singing and dancing joyfully. At the end of the set, the bassist came to sit in front of the crowd expressing his heartfelt thanks for their loyal support and promised that they would be back soon. Despite their brief 45-minute show, 'The band who broke the floor' succeeded in giving their groundbreaking performance sending the crowd to spread their love (for the band) like a fever on the floor.
Our two days at BMMF5 was supermassive fun and we definitely look forward to visiting the campsite again next year. Until then. (Text : Nette Kosit/Fon Dylan |Photos: Ryu)