SVANAPaper 2013 Kaleidoscope : Comeback Kids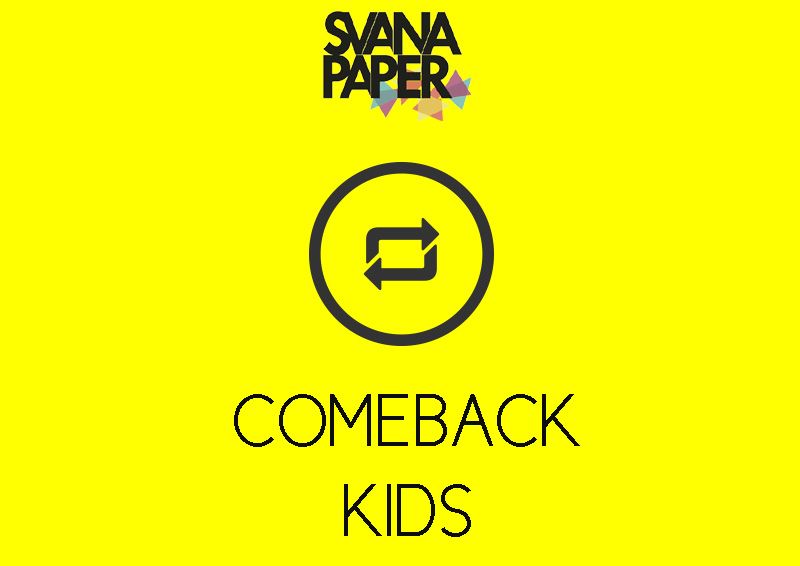 We have been making a list of ten and because a list of ten is too mainstream, we have listed nine best comebacks in 2013! They have appeared and named themselves in the music industry, they took a hiatus, and they finally made their resurrection in 2013. From those who took an olympiad, a decade, or even a score, we have them all on the list. (the list is sorted in a random order)
Who doesn't know Justin Timberlake? The multitalented guy, he can sing, he can dance, he can be an actor, he can do a comedy show, and he was even mentioned as the best Saturday Night Live host in decade. Since his solo studios album 'Justified' in 2002 and 'FutureSex/LoveSounds' in 2006 he always amuses us with his glorious sexy pitch voice and his sick dance moves. Then he took a hiatus in the music industry. In 2013 he brought that all back! 20/20 Experience – The Complete Experience is unquestionably the sexiest album in 2013. He drags us to the catchy beats, expertly written lyrics that speak one word : flawless.
Katy Perry did her 'Roar' promo for her album and Lady GaGa stormed the social media for her 'ArtPop'. But Beyoncé? She lets her music do the work. After all of the silence since her last album in 2011, Beyoncé dropped the balls. Her comeback is a big deal. She literally broke the Internet when she decided to surprise the universe with her new visual album entitled 'BEYONCÉ' last week. With no single, no advance hype, no publication, and then BAM! She admitted that the toughest part about making her latest album was keeping it a secret. Though her hardwork is paid off when her fifth album sold nearly a million copies in three days. Beyoncé's comeback has made it a good icing in 2012.
"Time may change me. But you can't trace time." And Yes, he was right. Time has changed his music to a better version. The last time he released an album was in 2003. The rumour of his return has been growing in the last five years, after suffering from a minor heart attack in 2004 and turning down many offers (He did turn down an offer to perform at London Olympics 2012 closing ceremony), he decided to pick 2013 to rehook us with his 'The Next Day'. His album peaked two on the Billboard 200 and number one on both top digital albums and top modern rock/alternative charts. And he was favourited to win The Mercury Prize in 2013 (the winner of the prize is James Blake's Overgrown). Whatever may come, David Bowie is the father of all the musicians. No one can beat his charm.
How to start it with Daft Punk? Uhm, Okay, their helmets have evoluted to a one hell of a sophisticated gear. And their music does the same thing. Their comeback was mysteriously aired on the commercial break of Saturday Night Live and then their teaser appeared at the main stage of Coachella 2013. Daftpunk definitely made it big for their comeback, with Julian Casablancas, Pharell Williams, and Niel Rodgers on their shoulders, 'Random Access Memories' has exploded their name once again. And wait for the big things to happen in 2014 since the electronic French duo has swept several nomination for Grammy Awards.
It didn't take a year or a decade, but it took twenty two years for My Bloody Valentine to return in the music industry. The Dublin-based band made a critical return with their album 'MBV'. It's followed by a good critic from several music magazines. The thing that made it lost the momentum is the fact that the band didn't get nominated for this year's Mercury Prize. But still, My Bloody Valentine have grabbed their fans back and no need to win the awards because they have won our hearts.
Trent Reznor, the frontman of Nine Inch Nails (NIN) should be given a huge credit for NIN's return in the middle of 2013. Reznor worked his ass off to co-produce 'Hesitation Remarks' and scored the album as his best work to date. The band also managed to make a tour movie of their comeback (posted on Vevo's serials). The album which was released a week before its original schedule also received a good feedback by David Fricke, the senior editor of Rolling Stone Magazine.
Karen O and the gang have been hailed as one of the most influential bands in the 2000s. With a hattrick nomination for Grammy Awards, the band finally bangs the door with their latest album 'Mosquito'. As the band have gone much wiser both in age and act, their latest album also marks as the hardest album that they have worked so far. Eventhough the band's latest work didn't earn them another Grammy Nomination, we are still in an awe with Karen O's current feature : Blonde hair.
Every story has crossed Lilly Allen, from her miscarriage, cussing Justin Bieber, and being fought back by Bieber's fans. Well, it was not an album that Miss Allen released for her return, but it's her single 'Hard Out Here'. Her comeback is followed by her strong statement which she sent through her music video. The bold music video is mocking the current sexism culture that has been around in the pop music world. Lilly Allen has put her spices to spark because she's ready to set her album in 2014. And we don't know whether it's going to be baggy or not.
One of the hardest tasks most successful band has to endure is making a follow-up to an album that catapulted them to success. In this case, Phoenix have succeeded with their recent album "Bankrupt". Instead of using the same formula that rocketed them to stardom, they have made a different album compared to Wolfgang Amadeus. Even though this album wasn't turned out to be their best album to date, A headlining spot in some major festivals such as Coachella and Lollapalooza is inevitable. Once again they have stole thousands of people hearts with their jingly-jangly tracks and their cute accent.